Sugar sales are down as consumers seek healthier alternatives to put in their home baking creations, from sweeteners to honey, agave syrup to fruit.
"Consumers are looking for nutritious, natural, versatile, un-processed and great-tasting alternatives to refined sugar and artificial sweeteners that can be used in baking and cooking," says Rosie Hayward, founder of The Groovy Food Company.
Here's our pick of some delicious recipes made with sugar alternatives…
Truvia's Key Lime Pie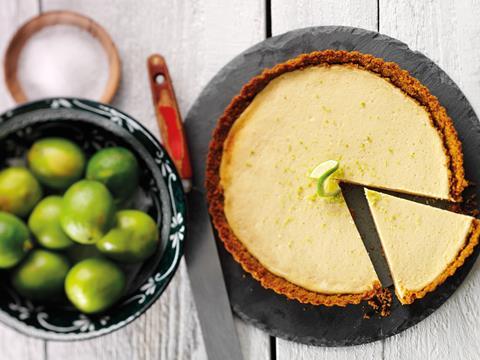 Ingredients
1 pack of sugar-free oatmeal or gingersnap cookies, crushed
1 tbsp Truvía® calorie-free sweetener
3 tbsp butter, melted
2 tbsp corn starch
1 tin evaporated milk
1⁄8 tsp salt
4 egg yolks
2 tbsp Truvía® calorie-free sweetener
140ml lime juice
1 tsp lemon extract
8 tbsp whipped cream (optional)
Method
1. Heat oven to 180°C.
2. In a medium bowl, stir together cookie crumbs, 1 tablespoon Truvía® natural sweetener and melted butter. Press in bottom and 1 inch up side of ungreased 9-inch pie tin. Bake for 10 minutes.
3. Meanwhile, place corn starch in medium bowl. Slowly beat in milk with whisk, then beat in salt and egg yolks. Add 2 tablespoons Truvía® natural sweetener, lime juice and lemon extract; beat with whisk. Pour into crust (it doesn't matter if crust is still hot).
4. Bake for 25 to 27 minutes or until filling starts to set around edge. Filling will still look runny, but will thicken and set as it cools.
5. Cool completely on cooling rack for at least 25 minutes. Cover and refrigerate for eight hours before serving. Top with whipped cream if using.
Groovy Pancakes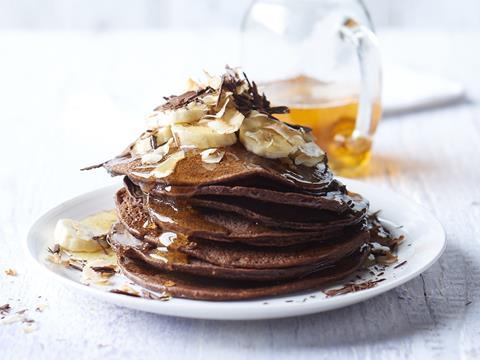 Ingredients
[Makes 6 pancakes}
3 tbsp The Groovy Food Company organic coconut flour
1 large banana, mashed
4 large eggs, beaten 

2 tsp. raw cacao powder or cocoa powder
1 tsp vanilla bean paste or 1 vanilla pod, deseeded
2 tbsp The Groovy Food Company organic virgin coconut oil
Pinch salt
Garnish
2 bananas, sliced (for garnish)
2 handfuls raw coconut chips, toasted
50g dark chocolate shavings
The Groovy Food Company organic agave nectar, light amber & mild
Method
Put all the ingredients except for the coconut oil into a bowl and blend together with a hand stick blender.
Melt the coconut oil on a gentle heat and put into a separate bowl.
Heat your pancake or frying pan over a medium heat and take a square of kitchen roll, dab it into the oil
Once the oil is hot, take ¾ ladle of the pancake mixture and pour into the pancake pan.
Cook until golden brown on the underside (approx. 1 minute), then flip over and cook until golden brown on the other side (about 30 seconds).
Once you've cooked all six pancakes, stack them back on top of each other in a set of three to warm through in the hot pan and flip over to warm the other side.
Serve warm with a drizzle of agave nectar, sliced bananas, toasted coconut chips and chocolate shavings on top.
Carrot Cake Cookies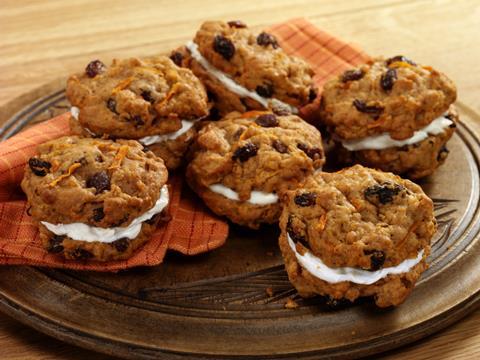 Ingredients
225g plain flour
2 x Dr. Oetker baking powder sachets (2 tsp)
2 tsp ground cinnamon
Dr. Oetker Madagascan Vanilla grinder
75g sultanas
1 large egg
90ml sunflower oil
60ml agave syrup
150g grated carrot
To decorate
1/2 tsp Dr. Oetker Madagascan Vanilla Extract
5ml agave syrup
100g reduced fat soft cheese
Preparation:
1. Preheat the oven to 180°C (160°C fan oven, 350°F, gas 4). Line two baking trays with baking parchment.
2. Sift the flour, baking powder and cinnamon into a mixing bowl. Using the vanilla grinder, grind over vanilla flakes to taste. Stir in the sultanas. Make a well in the centre and gradually mix in the egg, oil, syrup and carrot to form a firm cookie dough.
3. Form the mixture into 20 walnut-sized balls and place on the baking trays and press down each slightly. Bake in the oven for 12-15 minutes, until risen, firm to the touch and lightly golden. Leave to cool for 10 minutes then turn on to a wire rack to cool completely.