It's time for Nestlé to wake up and smell the competition. Despite fighting tooth and nail to cut competitors out of the market, the world's biggest food and drink company has lost not only its Nespresso coffee pod patent but a landmark court battle with copycat capsule maker Dualit - unwittingly shooting itself in the foot in the process.
"Our legal victory enhances the confidence our customers have in Dualit," says Alex Gort-Barten, director at Dualit, which has become the best-performing top 10 coffee pod brand since the court ruling in April 2013. "It has massively raised our profile so that we are regularly featured in the press alongside huge multinational companies."
The coffee capsule war fuelled by Nestlé's ageing intellectual property rights and Dualit's victory have sparked a market free-for-all with Dualit, Tassimo and CafePod among the players flooding the market with cheaper capsules to fit Nestlé's machines.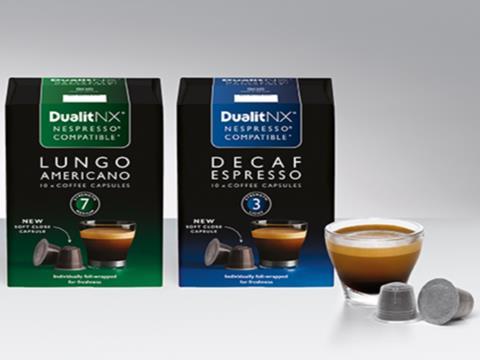 Dualit, whose capsules sell from £2.50 for 10 pods (Nespresso's start at £2.90) has won listings in Sainsbury's, Co-op, Ocado and Lakeland since winning the right to continue producing Nespresso-compatible pods. It is also supplying Marks & Spencer's first own-label Nespresso and Dualit-compatible coffee capsule range M&S Café (rsp: £2.80/10), which launched in September.
"We've seen a huge growth in demand for our capsules in the last year, which are both Dualit 3 in 1 and Nespresso-compatible," says Dualit's Gort-Barten. "Consumers get better value by being able to purchase capsules in reasonable quantities, without delivery costs."
Dualit isn't the only one to see huge growth in the past year. Overall, supermarket coffee pod sales have surged 52.5% to £86.8m in the past year [IRI 52 w/e 16 August 2014]. At that rate, they'll be way past the £100m mark in a year's time.
Although it's not clear how well Nespresso pods are selling at present (figures are unavailable because the brand's pods are only available from Nespresso's website), Nestlé's Nescafé pods for the Dolce Gusto machine are flying. The brand remains the biggest coffee pod brand in the supermarkets with value sales of £35.6m, up 42.5% year on year. Costa, Carte Noire and Kenco pods for Tassimo, which have the largest share of the market in value terms after Nescafé, are also in strong growth.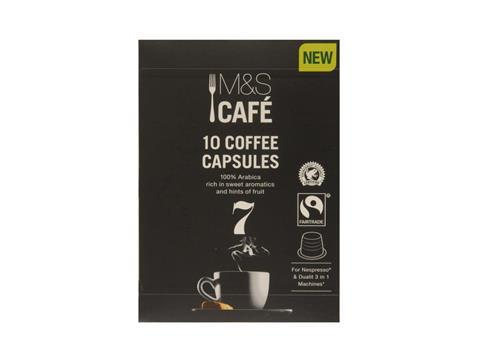 Brand owner Mondelez International says its Carte Noire espresso capsules are helping to drive Nespresso-compatible capsules' growth at 385% in value and 412% in volumes sales, and now account for 22% of the value and 25% of the volume of the segment. It also expects pods to be the biggest coffee segment in value by 2017.
"The Carte Noire capsules, available in five distinct flavours, are widely available in UK supermarkets, making them a convenient and affordable way for people to create an extraordinary espresso at home," says Susan Nash, trade communications manager at Mondelez.
Lidl's offering, launched in August, is even more affordable at £1.79 for 10 pods.
But you don't need to be a major player or retailer to cash in. Putney-based CafePod – the first coffee capsule brand to enter the UK multiples market in Waitrose in 2012 – won listings in 650 Tesco stores in May and has more than doubled its value and volume sales in the last year.
"We have an aggressive rollout plan that we're working to in order to grow our business," says Peter Grainger, founder of CafePod, which retails at £2.75 for 10 pods. "We're approximately 10% cheaper than Nespresso and being first to market in UK multiple retailers we have a better and more comprehensive understanding of what customers want."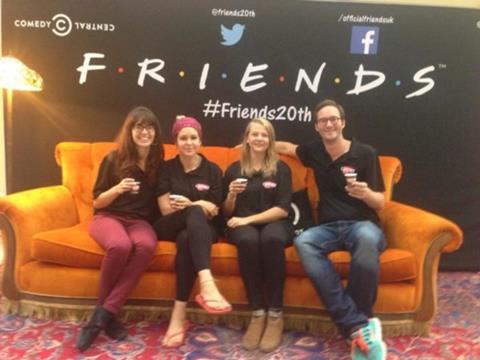 That rollout plan includes the September launch of a limited-edition range of five blends in partnership with Warner Bros and cult 90s sitcom Friends to mark the 20th anniversary of the show. The brand will be touring the UK with the TV show's iconic sofa, featured in the programme's coffee shop Central Perk, giving fans the chance to sit on the sofa and have their picture taken with a CafePod coffee.
It's impossible to know what impact such activity has had on Nespresso's sales – run as a separate business unit within Nestlé, by 2010 global sales had exceeded £2bn but the company has kept quiet about performance ever since.
With its Nescafé range also under fire from rival brands, Nestlé is turning its attention to its Dolce Gusto brand. Earlier this year it launched 'giant' 30-pod packs of Lungo coffee pods in Sainsbury's and this month [October] Dolce Gusto's Ardenza, its strongest espresso to date, will hit supermarket shelves.
Tea capsules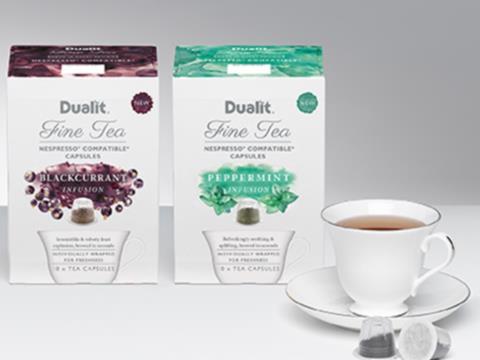 Of course, as Nestlé knows well, the competition is never far behind. After a successful pilot in May, Dualit launched a five-strong range of fine tea capsules including English Breakfast, Earl Grey and Green Tea in Steamer Trading in September, which it claims is the "biggest innovation since the pyramid tea bag".
"We developed patented tea capsule technology with an ultra-high flow filter which reduces the high pressure needed to extract an espresso, so that it's gentler and perfect for getting the finest flavour from delicate tea leaves," says Dualit's Gort-Barten. "It's the freshest tea you can find in grocery."
With Nestlé rendered powerless against copycat brands - Cafedirect is the latest player to launch its first Nespresso-compatible pod, which will hit the shelves of Tesco, Waitrose and Ocado in December - now might be a good time for the company to expand its direct-to-consumer service and consider selling its pods via the supermarkets in a bid to protect its coffee cash cow. And the same can be said for its rivals.
CafePod is embracing the direct-to-consumer model and targeting shoppers who would rather buy online after acquiring its own online retail platform Big Cup Little Cup in July, a move the company predicts will help increase its turnover 400% year-on-year.
"We are passionate about giving our consumers the best coffee possible so are constantly looking at new and innovative ways of delivering that," adds CafePod's Grainger.