The traditional cuppa is in hot water. Increasingly adventurous and health conscious Brits are ditching standard black tea in favour of fruitier, herbal and greener offerings - and they'll pay more for the privilege.
"The coffee revolution is spreading to tea," says Sarah Chanter, director of Scottish premium tea brand Eteaket. "Shoppers are now savvy to quality and are willing to pay more to get a more enjoyable and tastier cup of tea. They want more than a bog-standard black tea bag."
At an average price of 5p per cup compared to standard tea's 2p, green tea is the category's star performer, with value sales up 18%, on volumes up 9%. Value sales of fruit & herbal tea are up 8%, on volumes flat at 0%, boosted by an average price of 7p per cup [IRI 52 w/e 16 August 2014].
"People appreciate that the more they pay, the better quality tea they get," says Chanter, whose company is selling tea back to the Chinese by exporting to the Far East. She predicts its turnover will increase by 165% to £1.1m by 2018.
Such demand prompted PG Tips to launch a five-strong range of green teas (rsp: £1.29 – 6.45p per bag) and five fruit and herbal teas (rsp: £1.19 – 5.95p per bag) in packs of 20 in January, supported by a £5m TV ad campaign featuring the Unilever-owned brand's iconic monkey.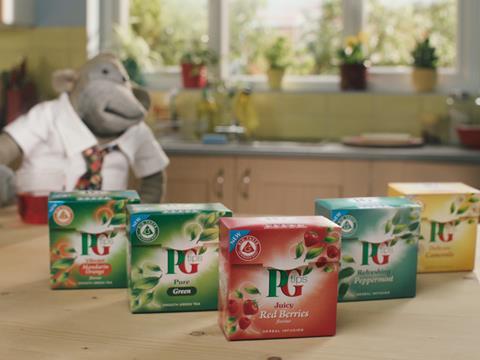 The advert shows the PG Tips monkey perusing the new range, which includes mandarin orange green tea and red bush & vanilla blends, before making a cup of juicy red berries tea.
"We've been doing a lot of work to understand this category and see where the growth is," says Kate Mitchell, brand manager for PG Tips, whose green tea is among the best performing of the top 10 green tea brands. "There's a younger shopper out there looking for the opportunity to try different variants."
Just weeks after PG Tips' NPD hit the shelves Tetley - whose green teas sales are also in healthy value and volume growth - rolled out a four-strong range of fruit-flavoured green teas in blends including raspberry & pomegranate and mango & passionfruit.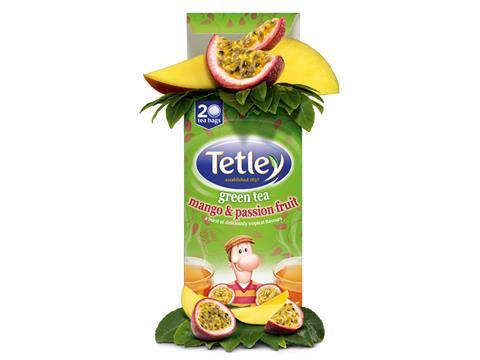 "This range is really what's been driving sales and helping to drive the brand," says Andrew Pearl, director of customer & shopper marketing at Tetley, who says the brand's planned NPD in the green tea category in the new year will "take the benefits of green tea to another level".
The launch is being supported by Tetley's first digital campaign for its green teas, which kicked off in September on high-profile websites including The Mail Online and MSN with the strapline 'Healthy green tea and now't else'.
Ready-to-drink
Expanding into ready-to-drink fruit-flavoured green tea has helped upmarket tea brand Teapigs become the best-performing top 10 green tea brand.
Apple, grapefruit and elderflower teas in 330ml Tetra Pak cartons hit the shelves of Ocado, Planet Organic and Harvey Nichols in June each containing 1g of matcha, an antioxidant rich super-concentrated green tea.
"There is huge potential in fruit, herbal and green tea," says Louise Cheadle, co-founder of Teapigs. "There are multiple formats, numerous blend combinations and the demand is there for diverse flavours and premium-quality products."
Teapigs is also the best performing of the top 10 fruit & herbal tea brands, prompting the launch of five new blends including rhubarb & ginger, fennel & liquorice and chocolate & mint at the end of September.
"Premium tea can drive value back into the category"

Andrew Pearl
But not all players have reaped green tea's rewards. Value sales of Clipper green tea have slipped prompting the brand to relaunch its entire green tea range this month [October]. The relaunch includes the addition of six new flavours including green pear & honey and green lime & ginger backed by its largest ever ad campaign including TV ads from February.
Yet with value sales of fruit & herbal tea worth £65.4m and green tea worth just £30m compared to standard tea's £494.7m, it's unlikely either sector is going to rescue the total tea category any time soon. Stamndard tea value sales are down 6%, on volumes down 12.7% [IRI].
"We need to turn around everyday tea and one of the growth areas is premium tea," says Tetley's Pearl. "It's a higher pence per cup and premium tea can drive value back into the category."
With price per cup in mind, and with value sales of its standard tea down 12.9%, on volumes down 16.1% [IRI], Tetley has relaunched three blends – Kenyan Gold (formerly Estate Selection), Blend of Both and Extra Strong – under the premium banner 'Blend Collection'.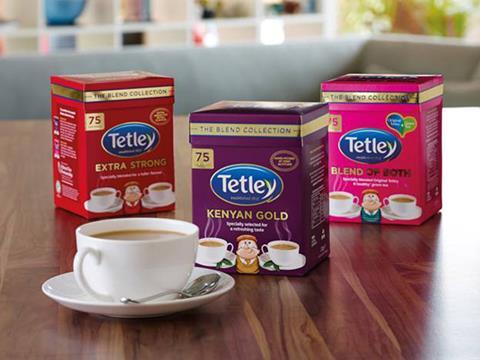 The new range, which launched in Sainsbury's in September and is currently rolling out across other multiples, costs 3.5p per cup compared to standard everyday Tetley's 2.8p per cup.
And after adding to its premium range with The Rich One, a blend of East African, Assam and Ceylon tea at 3p per cup in April 2013, PG Tips says the brand is currently worth £371,000. "Shoppers are looking for value and not just from a price point of view," says Kate Tilbury, head of beverages at Unilever.
With category stalwarts such as PG Tips and Tetley busy premiumising, Clipper Teas has set itself up as the challenger to other black tea brands with its first TV ad campaign since 2012, encouraging viewers to 'cheat' on their regular tea brand by 'having an affair with Clipper'.
The ad, which first aired in March with the hashtag #ditchtheoldbag, shows couples enjoying cups of tea together as messages such as 'she's having an affair' appear on screen. At the end of the ad it's revealed the couple are only cheating on their usual tea brand.
"Although consumers are drinking less, people are drinking at least one cup of everyday tea per day," says Rebecca Vercoe, brand controller at Clipper. "These consumers still need to buy tea, but they are buying smaller packs of great quality tea."
So if consumers are only drinking one cup of tea a day, the key to driving value back into the category is by making sure it's a good one.