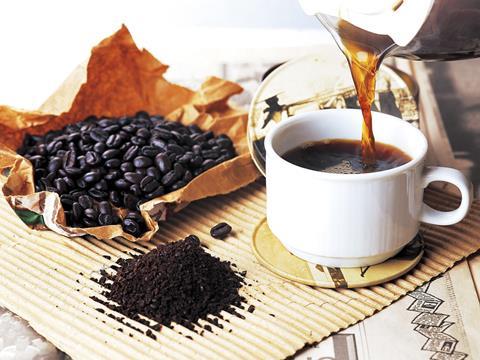 From black coffee lager to Deliciously Ella mocha smoothies, innovation was buzzing at this year's London Coffee festival (and that wasn't just the caffeine talking). We pick out the top five trends from the weekend.
Watch: hot trends from the London Coffee Festival
1. The new soft drink
Iced coffee isn't the only way to get caffeinated over the summer, as exhibitors proved. The festival showcased a number of chilled tea and coffee products that wouldn't look out of place in the soft drinks aisle. Sandows was busy promoting its newly launched cold brew coffee sodas, including a citrus variety that promises to taste like "coffee lemonade" and a spice variant with orange blossom and ginger. Although Sandows claims to be the first on the scene with cold brew coffee soda, a number of rivals are now cropping up with similar drinks.
Tea also received a cool makeover thanks to startup exhibitor Matcha Works. The company mixes matcha tea with plant milks – there are almond, coconut and oat milk variants – to create a naturally sweet drink. Positioned as a grab-and-go canned drink, it hopes to bring matcha tea to the masses.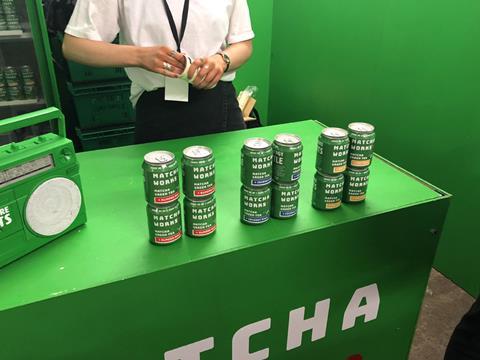 Allegra, the company behind the London Coffee Festival, can only see this trend taking off further. "We've seen ready to drink tea and coffee really being led by the United States," says managing director Jeffrey Young. "In the US, you have cascara, which is the skin of coffee fruit converted into a soft drink, which is another trend that we expect to come here as well."
2. Coffee cocktails
You can't talk coffee cocktails without mentioning the now-ubiquitous espresso martini. (And yes, there was as espresso martini party at the festival.) But to prove the trend is more than a one-trick pony, there were plenty more innovative concoctions on offer. Starbucks hosted a mini martini bar with a twist on the classic in the form of a flat white martini cocktail. Ibizan roastery Meke Coffee flew in to create its signature 'ginger ninja' drink – a mix of espresso, mescal, ginger and orange. More innovation came from Camden Town Brewery, whose black coffee lager (yes, you read that right) drew in a curious crowd. Surprisingly, the flavour wasn't as bitter as you might think.
3. Plant-based
Another trend that isn't going anywhere is plant-based milk. Over the course of the festival, various dairy-free companies were trying to plug their wares as the best substitute for milk in your frothy latte. Alpro was heavily promoting its For Professionals range, used by baristas to create a range drinks including Alpro Soya Original Cappuccino, Coconut Hot Chocolate or an Iced Chai Latte.
It had a fight on its hands from Swedish brand Oatly, which was using its oat-based barista blend to whizz up lattes that were just as creamy (if not creamier) than the dairy stuff. Just to prove it was serious, it had one of the most advanced coffee machines at the show.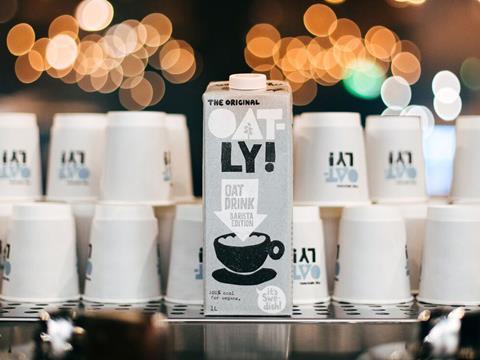 Allegra's Young believes coffee will be a key battleground for the plant-based market. "These non-dairy milks have definitely improved their quality and the companies have worked with baristas to create a product that foams well," he explains. "Coffee's very acidic so it often curdles a non-dairy product, but they've developed a range of products that work well and give the right texture."
4. Wellness
Coffee and wellness seem unlikely bedfellows. Given that health gurus such as Gwyneth Paltrow tend to eschew caffeine (unless it's in an enema), you would hardly expect clean eaters to be queuing up for a coffee. But there were plenty of brews on offer at this year's festival that aimed to tick the health box. Deliciously Ella shared a recipe for a vegan-friendly, gluten-free Peanut Butter Mocha Smoothie, containing banana, peanut butter and almond milk. And one exhibitor – Pitch – was an example of how to base a café around fitness (its premises have a spin studio and boxing gym above). Its signature 'morning motivation' drink includes espresso to kickstart your workout.
5. Sustainablity
As disposable cups come under the scrutiny of MPs (and David Attenborough) festival-goers were far more aware of the environmental impact of their caffeine habit.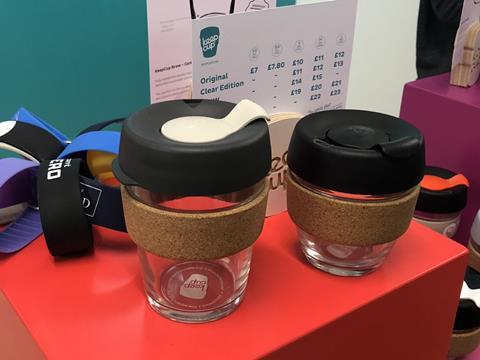 The event organisers took the lead in avoiding a sustainability faux-pas. All of the single-use cups at the show were recycled (and could eventually form the cups used at next year's event). But there was also a strong emphasis on avoiding single-use cups in the first place. Reusable cup exhibitors were doing a roaring trade; Keep Cup said its sales for the first three months of this year had trebled on the same period last year. Thanks, David Attenborough.
The London Coffee Festival took place on 12-15 April at The Old Truman Brewery, London