Whatever happened to the good old British cuppa? Walk down the hot beverages aisle today and you're inundated with choices: from PG Tips The Fresh One to tea for hard water, via loose leaf, flower teas and even a Liquorice Allsorts variant.

No surprise then that the traditional brew is feeling the pinch. The tea category as a whole is down 1.8% in value and 3.3% in volume, with own label particularly badly hit - although the brands haven't got off lightly, with values down 1.4%.

A bog-standard mug of builders tea just won't cut it any longer, it seems, which is why many mainstream brands have launched more exotic ranges - or hedged their bets.

"Tetley Blend of Both is a good example," says Tetley customer marketing controller Simon Atfield. "Consumers want to drink green tea, but don't particularly like the taste. Being a blend of black and green tea, Blend of Both meets taste needs while also offering the healthy benefit of green."

The Tetley brand is certainly in need of a boost. Although it has held firm in second position and volume sales are buoyant, value sales of its standard round bag have slipped. Whether NPD such as Blend of Both can help remains to be seen.

The other challenge, "is to broaden the appeal of Tetley to more drinking occasions throughout the day", says Atfield. "Tea is firmly established at breakfast, but there are many more possible occasions in the day and we need to identify how we can grow these."

For market leader PG Tips, innovation targeting those extra drinking occasions has already paid off. While its core pyramid bags have declined 9% in value and volume, its Special Moments range, launched in 2011, has gone from strength to strength. Value sales of The Strong One and The Fresh One are up 98.2% and 101%, respectively, pulling in a healthy £4.7m in revenue and offsetting some of the £13m decline in the top-placed brand - and the company has high hopes for The Hint Of Earl Grey One, launched in February.
"Consumers are still willing to pay for products that offer a premium experience" Artur Kuczera, Kraft Foods
"Premiumisation is key to driving value growth in tea, trading shoppers up from two pence per cup to three, four and five pence per cup," says PG Tips brand executive Tana Walker. "We've also worked towards presenting consumers with more than depth of deal and price promotions, such as lighter-weight offers like giveaways and competitions, as well as on-pack promotions."

When it comes to premiumisation, instant coffee is arguably ahead of the curve. Sales of premium brands continued to soar in 2012, with Kenco Millicano posting the most impressive growth.

"Kraft Foods has been at the forefront of the premiumisation trend and innovation has been key this year," says Artur Kuczera, Kraft Foods marketing manager for beverages, UK and Ireland. "We've launched Carte Noire Instinct, Kenco Millicano Caffeine Free and Carte Noire refill packs, all driving strong results."

It's just as well Kraft's more traditional variants aren't looking so healthy. Kenco Smooth lost 11.1% in value sales, costing the brand £4.4m, while Kenco Rich slipped 5.5%, or £1.8m. Fortunately, the £9.6m sales boost from Millicano this year, coupled with the September launch of the Costa at Home range under sister brand Tassimo in September, has more than compensated for these declines.

The nation's ongoing love affair with premium coffee has resulted in 13.1% value growth for roast and ground. Nescafé's Dolce Gusto range has gone down particularly well, with its Caffè Americano, Latte and Cappuccino variants brewing up an impressive £13.9m for Nestlé in the past year as the giant cashed in on consumers' desire to take coffee shop culture home with them.

Established players Lavazza and Illy may want to take note. Although their master blends are doing well - sales for Lavazza's Qualita Rossa are up 26.9% in value and 19.3% in volume, consolidating its number-one position, and Illycaffè Espresso has grown values and volumes by 16.3% and 18.3% respectively - Nescafé is looking more and more threatening.

Own label, however, looks to pose less of a challenge. Value sales growth of 6.5% trails that of branded and disguises a 1.7% decline in volume sales. Café culture relies on strong brands, and it would appear own label isn't strong enough to take on the big names in roast and ground.

"Well-positioned, good-quality brands which give consumers great value have continued to offer good opportunities for growth," says Lavazza Coffee UK home sales and marketing director David Rogers. "We have expanded our pod range with Lavazza A Modo Mio Le Selezioni coffee capsules and we have expanded our Tierra range. These exploit this growing category perfectly."

In tea, the early signs are that premiumisation is working. The brands posting the strongest growth have not been mainstream, but those at the more premium end of the spectrum offering exotic ingredients and artisan blends, such as Clipper, which rolled out a new range of Boutique Single Estate tea in March and has posted double-digit increases in value and volume sales.

"Decline is being driven by mainstream tea," confirms Nielsen senior client manager for tea Helen Hughes. "Green tea is growing in value and infusions are also in growth." Those infusions have a distinctly floral flavour. NPD in 2012 included The Tea Experience's Flowering Tea Blooms featuring red amaranth and sweet osmanthus, Twinings' Jasmine Fairy silky pyramid bags and The London Tea Company's White Tea with Elderflower.

Not that being posh is always enough. Twinings has been struggling since it reformulated its Earl Grey blend in 2011, a storm in a teacup it's still trying to quell more than 18 months on. Value sales of its Everyday and Floral Limited Edition ranges are down 9.1% and 13.2%, respectively - although its decaffeinated variant has performed well, with values up 16.4%.

The brand is also keen to stress the importance of gifting. "Our new 'Afternoon Tea' gifting range features our best-loved blends and capitalises on the resurging fashion for socialising and gossip over a delicious cup of afternoon tea and cake," says Twinings head of brand Rebecca White. "Gifting is becoming more important as a proposition for us."

Typhoo, meanwhile, is trying to appeal both to premium and more value-conscious shoppers as it attempts to reverse a 0.1% fall in value sales. "We have seen the tea market polarise in terms of pack size, with people stocking up on heavily discounted 240-bag packs and then topping up with low-spend 40s packs," says Typhoo marketing manager Kate Willoughby. "We have tailored our offering to appeal to both ends with half-price and £3 deals on our 240-bag packs and the launch of our Typhoo Eco Refill 40-pack."

Typhoo isn't the only brand hoping to prick consumers' environmental consciences to drive sales. "Packaging reductions such as Eco Refill and initiatives such as Kenco sourcing 100% of its beans from Rainforest Alliance-certified farms are of increasing value to customers," says Kraft's Kuczera.

"Our Kenco Rich and Smooth Eco Refill packs are growing by 25% and 23% year-on-year respectively. Consciousness of environmental changes is important."

Offering caffeine-free options is another way brands are successfully adding value. And no wonder when decaf variants of tea and coffee have seen sales soar: Yorkshire Tea's decaffeinated bags have leapt 19.3% in value, Tetley's green decaffeinated is up 18.5% and Twinings decaf is up 16.3%.

It's a similar story in the coffee aisle, where value sales of Lavazza's Espresso Decaffeinated are up 22.6%, and Taylors Decaffé, 10.4% - a promising sign for Kenco following the launch of its Millicano decaf in July. "The ongoing momentum in the wholebean instant category is providing an opportunity to re-energise decaf through quality and taste and extend coffee consumption later into the day," says Kuczera.

One sub-category that has not benefited from the indulgent drinking trend, however, is hot chocolate, which has seen volumes slip over the past year and has cost inflation to thank for its 3.5% value growth.

Value sales of Horlicks have fallen 11.5% - although the brand is hoping flavour innovation including Chocolate Cherry and Cappuccino variants, launched in August and September, will help stem the decline. Not even Cadbury, whose core line remains number one, has emerged unscathed. It has seen its Highlights range - which sits at number six - fall 8% in volume sales, despite a 10% uplift in value, a discrepancy that is probably due partly to its relaunch in a single-serve stick format in May.

Cadbury's cocoa, however, is performing strongly - and Kraft stablemate Green & Black's is also doing well, even if its double-digit value growth belies a much smaller volume increase.

It's likely both are beneficiaries of drinkers' increasingly upmarket tastes. As Kuczera puts it: "Despite tough economic times, consumers are still willing to pay for products from trusted, quality brands that offer a premium at-home experience."

No doubt the category - and particularly tea brands - will drink to that.
Top Launch 2012
Tetley Blend of Both Tata Global Beverages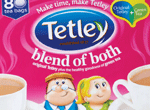 It's a trick mums have been using for years: it's green and it's good for them, but the family doesn't like the taste, so disguise it as something else. Tetley Tea has done just that with its Best of Both blend, a mix of green and black tea that tastes just like a traditional cuppa. The tea is aimed at those who don't like the taste of green, but have a thirst for its health benefits. According to Tata Global Beverages, the blend has delivered a higher level of repeat purchase than any other recent NPD.