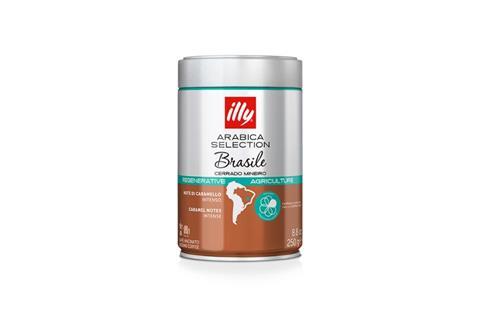 Italian coffee giant Illycaffè is to launch its first blend created through regenerative agriculture.
The Arabica Selection Brasile Cerrado Mineiro (rsp: £6.80/250g) has been Regenagri certified, a third-party certified program that ratifies regenerative agricultural claims.
The agriculture programme supports farms and organisations to transition to "holistic farming techniques" that increase soil organic matter, encourage biodiversity, sequester CO2 and improve water and energy management.
The beans for Illycaffè's latest brew were grown using 100% regenerative agricultural practices in collaboration with farmers in the Cerrado Mineiro region of Brazil.
The new brew will roll into Waitrose from 16 October in both whole bean and pre-ground 250g formats.
The company said the regenerative agricultural practices employed in cultivation had resulted in a healthier ecosystem, owing to "the increased biodiversity of the species used for ground cover" and improvements in "soil dynamics".
It said the shift to regenerative agronomic practices would shift the focus "from the plant to the soil", adding that it represented "the best natural solution" to encourage resilience and growth in plants.
"The Arabica Selection Brasile Cerrado Mineiro is the result of the relationship we have built over the years with coffee producers and the Federation of Producers of Cerrado Mineiro," said Illycaffè CEO Cristina Scocchia. "Aware that this challenge can only be overcome by joining forces, we have identified the best techniques for ecosystem adaptation, mitigation, and regeneration, producing the first 100% arabica coffee sourced from certified regenerative agriculture."