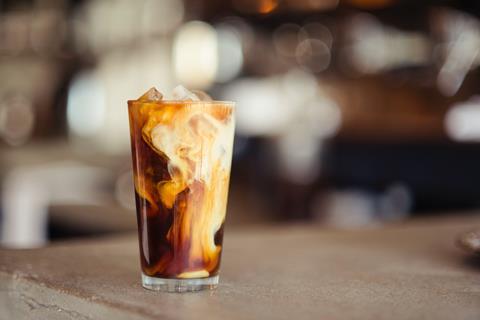 Within food and beverages, we view coffee as having been one of the most resilient categories during the Covid-19 pandemic. Not to put too fine a point on it, but consumers see coffee as 'essential'. According to the US national coffee association, 64% of American adults consume coffee every day and drink on average more than three cups per day. Globally, 500 billion cups of coffee are consumed every year. In value terms this translates into a market worth over $400bn, split three-quarters out-of-home and one-quarter in-home.
Euromonitor forecasts 4% growth for in-home coffee to 2024. While it might seem a dull category, it is anything but. Within this number, there is more growth in the premium segments such as single-serve, whole bean and double-shot espresso capsules. This premiumisation trend shows no sign of slowing, even in a recession.
This opportunity arises from a challenge: with many coffee shops still shut, there has been a huge shift in channel dynamics which has resulted in high-profile coffee chains shedding thousands of jobs. Nestlé said that in March and April this year, 40 billion coffee cups were lost in the out-of-home channel, but only nine billion were recovered in-home.
There were some encouraging signs of recovery in the out-of-home channel in June and July, which would be good news for manufacturers as the revenue per cup is materially higher than in-home coffee. However, when coffee shops were closed for prolonged periods, this fuelled premiumisation at home. Café culture has significantly raised the bar and people expect the same quality of coffee at home. As such, soluble coffee and roast and ground coffee segments are losing share to single-serve or portioned coffees, such as Nespresso.
According to Euromonitor, portioned coffee (globally) grew from $1.5bn in 2006 to $19bn in 2019. This is very visible when we look at the individual markets. In the UK, for example, portioned coffee accounts for one-third of the market vs less than 10% in 2010. In France it is even higher, at 60%. In emerging markets, especially those countries with a tea culture, there remains a sizeable per capita coffee opportunity, with (for example) the Chinese consumer drinking only five cups per year. One category that is particularly dynamic currently is ready-to-drink coffee, which is doing well with younger consumers in hotter climates.
This comes against a backdrop of renewed activity among the coffee giants. Nestlé is the clear market leader in coffee, controlling a quarter of the global market. Its competitors for decades had been local and regional players in a fragmented category. However, this has changed in recent years, with JAB spending circa $30bn on coffee deals looking to build a credible challenger to Nestlé. JDE Peets recently was IPOed in Europe and is the only pure-play listed coffee company. However, Nestlé is not sitting on its hands. Having never completed a coffee acquisition in its history, it has managed three in recent years, the biggest being the $7bn it paid for the rights to the Starbucks brand in food retail/service channels. This deal adds a third big coffee brand to its stable to complement Nescafe and Nespresso. By contrast, JDEP has more than 50 coffee brands in its portfolio.
The Starbucks brand is important for Nestlé not just because it attracts a younger consumer to the category, but also because it allows Nestlé to participate more fully in the booming capsule market in Europe. There are more than 100 Nespresso-compatible capsule companies in Europe: Nestlé was impacted because consumers were buying competitor capsules at retail and then using them in their machines. This was because Nestlé only sells its Nespresso capsules on its e-commerce site and in its boutiques, not in retail. The Starbucks acquisition can now help plug that gap.
The good news for consumers is that increased competition is driving a battle of innovation leading to ever more variety.