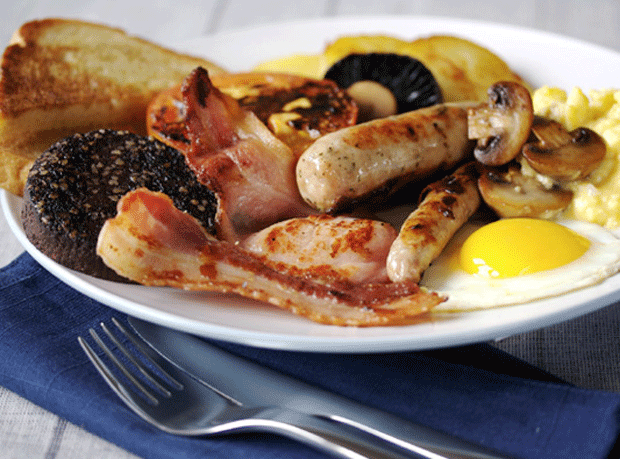 Eggs, baked beans, toast and bacon have all increased their share of breakfast occasions in the past year. So are we in the midst of a Full English revival?
Not quite, despite this week's publication of a report that found the best way to lose weight is to make brekkie the biggest meal of the day. Sausages, a key part of the traditional fry-up, have fallen off 0.1% of breakfast menus in the past year and suffered a 1.1% decline since 2009 [Kantar Worldpanel]. Some suggest sausages have suffered from growing scepticism of processed foods and increasing public health consciousness.
But the popularity of other fry-up staples is growing as we spend longer over weekend breakfasts after grabbing brekkie on the go in the week. Bpex says 44% of bacon and 33% of sausages are now eaten at the weekends.
Bacon has been a particular success story - share has increased 1.7% in the past year and 8.3% since 2009. But growth in cooked breakfasts isn't all down to us eating the full works at the weekends the bacon sarnie is booming too, says Heinz.
"At HP Sauce, we've seen strong growth in the popularity of bacon sandwiches over the past 10 years, with 47% growth, driven by desire for cheaper, more convenient and filling options for breakfast," says Jane Jeffreys, marketing director of sauces at Heinz. Egg sandwiches are doing well, too - their share of breakfast is up 12.6%.
But even eggs' overall growth of 6.1% - thanks in part to more positive health perceptions - pales next to baked beans' growth, up 22.9% in the past year. Heinz says canned foods are increasingly being seen as an affordable but filling breakfast option.
New packaging has also helped, says Heinz Beanz marketing controller Katie Bleach: "Our Snap Pots can be cooked in the microwave in one minute without the need to hover by the hob, worry about waste or add to the pile of unwashed pans."
Focus on Breakfast: Bed or breakfast?
1

2

3

4

5

Currently reading

Hot breakfast is up... but it's not quite the 'full' English

6

7