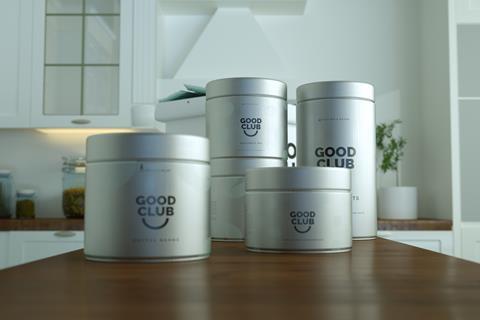 Direct-to-consumer grocer Good Club is looking to expand its green credentials by becoming "the world's first zero-waste online supermarket".
Launched last year, the startup offers around 2,000 "sustainable staples" across ambient food and non-food categories. It is aiming for a closed loop for its packaging, and intends to kick off a trial in the autumn for around 30 SKUs. Shoppers will receive the products in non-plastic packs that can be returned, cleaned and refilled.
Good Club intended to focus on items that were "particularly hard to find in non-plastic" said co-founder Ben Patten. It would encompass "products with different attributes, so we can test the ability of different types of container to hold those products and be used again".
The Brixton-based retailer is currently considering packaging options. "We don't have a universal solution," Patten added. "We're looking at stainless steel and silicates – and there are considerations around food safety, the cleaning process, refilling, resealing and relabelling."
To fund the plans, Good Club has kicked off a crowdfunding initiative. It is seeking £400k via CrowdCube in return for 13.33% equity. At the time of writing, the push – which values the business at £2.6m – had reached 77% of its target.
"One way or another, we'll reach the full amount," said Patten, a former CEO of FarmDrop. He expected to be overfunded by the deadline in 13 days' time.
As an additional source of funds for its closed loop, Good Club is looking at a membership model, with an upfront payment and a deposit scheme for shoppers who want reusable packs.
The D2C supermarket wouldn't offer "everything in reusable from day one", Patten said, and it would never go 100% reusable. Tinned products, for example, already benefitted from "a good recycling process".
"Even by the end of 2021 our plans are, in terms of sales, to have 20% in the closed loop," he added. However, Good Club intends to switch all products to more environmentally friendly packaging or drop those that cannot be sustainably packed.