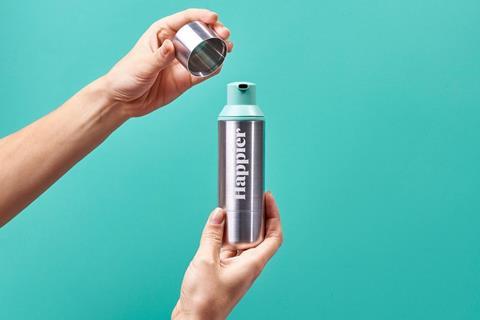 Happier Beauty Refillable Toothpaste Dispenser
Launch date: Spring 2022 Manufacturer: Happier Beauty
British eco-friendly toothpaste startup Happier Beauty is developing what it claims is the world's first refillable toothpaste dispenser. Designed to tackle the tonnes of plastic waste produced by regular toothpaste pumps and tubes, the dispenser will be made of aluminium and 50% recycled plastic, while the refill capsules are biodegradable. Customers will be able to choose a subscription of the refill capsules, and will get the dispenser with their first delivery. The dispenser will be available in four colours: mint, pink, peach and white.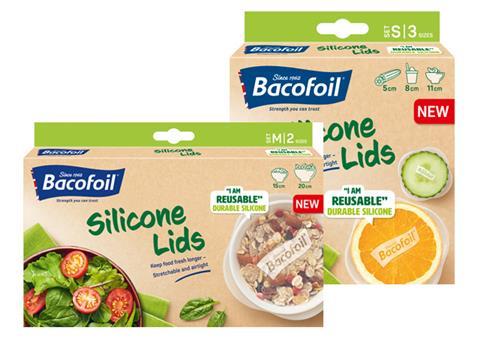 Bacofoil Silicone Lids
Launch date: March 2022 Manufacturer: Bacofoil
Designed to tackle single-use plastic and food waste, Bacofoil Silicone Lids are dubbed as "a versatile, reusable alternative to single-use food wraps". Made of long-lasting, stretchable and durable food-grade silicone for a leakproof and airtight seal, they are suitable for use in a fridge, freezer and microwave and are available in small (rsp: £5.99) and medium (rsp: £8.49) sizes.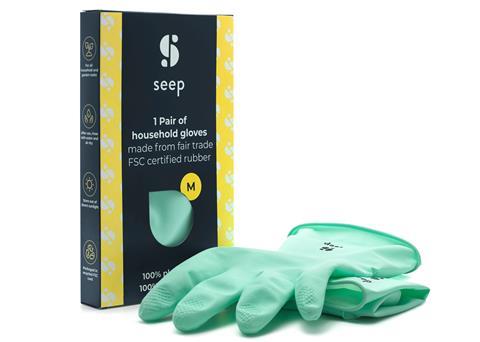 Seep Natural Rubber Gloves
Launch date: December 2021 Manufacturer: Seep
Seep's latest launch uses natural, sustainable and ethically-sourced rubber to make plastic-free biodegradable and compostable washing-up gloves (rsp: £4/one pair). Unlike some other brands, the Natural Rubber Gloves don't release harmful microplastics into the environment, and are disposable via the waste bin.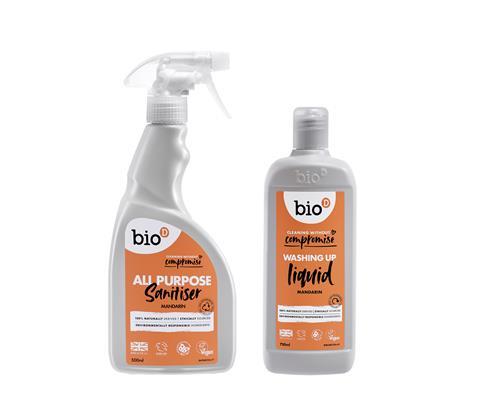 Bio-D Mandarin Scented Range
Launch date: December 2021 Manufacturer: Bio-D
Bio-D has added an all-purpose sanitiser spray (rsp: £3.05/500ml) and a washing-up liquid (rsp: £2.50/750ml) to its range. Both products are mandarin-scented, and like the rest of the brand's range are vegan and cruelty-free. The bottles are also recyclable and created from post-consumer plastic, with five-litre refills also available.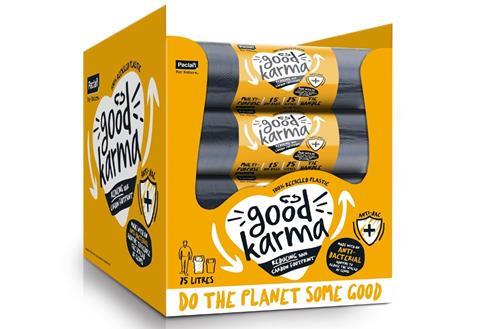 Good Karma Bin Bags
Launch date: November 2021 Manufacturer: Cedo
Cedo claimed a UK first with the launch of these "fully circular" refuse sacks that "can help reduce the spread of deadly bacteria like e.coli and s.aureus". Made from 100% rLDPE, the recyclable bags contain an antimicrobial additive called Bactiglas, which is " natural to our environment and toxic to bacteria", the brand said. They made their debut in Morrisons (rsp: £4) at the end of last year, with a wider retail rollout expected over the next 12 months.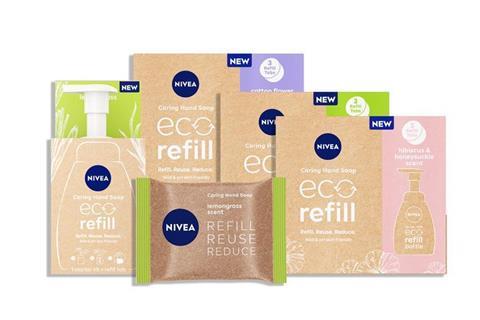 Nivea EcoRefill
Launch date: November 2021 Manufacturer: Nivea
Nivea's "revolutionary" new range of sustainable hand soaps comprise 100% recycled and recyclable PET bottles and cleanser tablets. The liquid is created by putting the tablet in the bottle, adding lukewarm water and shaking. Boasting a "99% biodegradable formula", it lasts 25% longer than standard Nivea hand soap, the brand claims. Three variants – Hibiscus & Honeysuckle, Cottonflower, and Lemongrass – are available in starter kits, which contain the bottle and one tablet (rsp: £2.50), as well as packs of three tablets (rsp: £3).
Feel Good Toilet Tissue
Launch date: April 2021 Manufacturer: Wepa UK
Billed as "kind to the planet and gentle on your bottom", this eco-friendly toilet tissue is made from only "the highest-grade recycled paper, including waste office paper, magazines and even retail catalogues" says Wepa UK. It's "naturally soft" and "designed to meet the needs of today's environmentally-conscious consumer". Each pack of nine rolls (rsp: £4.45) is wrapped in recyclable paper.
Finish Reduced Plastic Packs
Launch date: August 2021 Manufacturer: Finish
Finish teamed up with Tesco to roll out new packs with less plastic packaging last summer. Containing the same number of dishwasher tabs as previously, the new packs are made with up to 15% less plastic packaging, says Finish. Through the partnership, shoppers can bring used packs into Tesco stores for recycling at plastic carrier bag recycling points.