For the Victorians, cleanliness was next to godliness. By the 1950s, it had become a religion. Every Woman's Book of Home Making (1950) put it thus: 'To us wives, a house is… a shrine of married love; a haven of rest for hubby when he comes home tired from a day's work.' And hubby required a clean haven.
These days it would take a brave (or stupid) husband to voice such sentiments to his wife. That's not all that's changed. Regardless of who's doing the housework, Brits are still a houseproud bunch, but today it's not enough to have a house that simply looks spotless; it's got to smell great too.
Sales of household cleaning goods have just turned in their fifth consecutive year of growth, up 2.2% to £5.8bn on volumes up 0.9% [Kantar Worldpanel 52 w/e 9 November 2014], thanks largely to strong growth in aircare and fabric conditioners, driven by a surge in fragranced NPD such as Lenor Unstoppables and Comfort Creations. A strong performance from household cleaners has also helped matters.
Across the market, brands are cleaning up, with growth of 2.8% on volumes up 1.4% compared with a more or less flat performance from own label [Kantar]. How are they doing it? Can it be sustained? And what is own label doing to fight back?
"Branded cleaners are becoming increasingly competitive from a promotional view"
With discounters and pound stores driving a lot of growth, hitting the right price point has become key for brands in certain categories, says Ben Taylor, Unilever trade category manager for household. "We're seeing a lot of growth in high street discounters, with the majority of volume sold through this channel on promotion," he adds. "Branded cleaners are becoming increasingly competitive from a promotional point of view, with Domestos often at £1."
Indeed, the average price of branded household cleaners and aircare products has fallen 2.4% and 1.3% respectively, the category's greatest price declines, chiefly as a result of increased promotional activity. The category's 10 most promoted brands have increased their use of featured space deals by 10.3%, with Comfort and Flash up by a whopping 40.5% and 35.2% respectively [Assosia 52 w/e 1 Dec 2014].
Own label has been hit hard. "Over the last two years the economic environment has driven a very defensive price position from brands to prevent consumers switching to private label," says Claire Whalley, head of household & personal care at own-label supplier McBride. "A lot of the work we are doing in private label is about us re-establishing the value proposition, through EDLP and keeping private label very simple."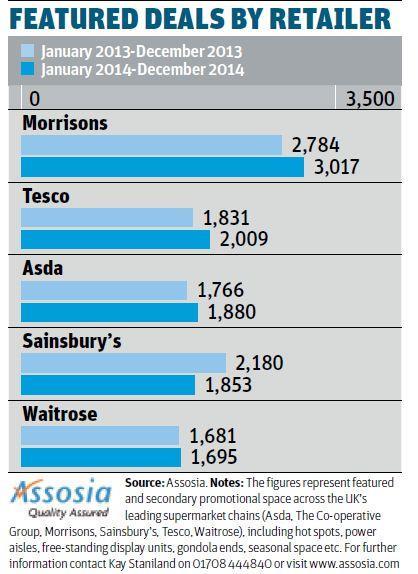 Innovation
A focus on innovation will be key if own label is to claw back lost sales. While price has been important in recent years for brands, they have also been encouraging consumers to adopt premium options. This includes new packages for established products, or new fragrances, but also more radical format innovations to increase convenience, which is an increasingly important purchase driver.
Gels have been a focus in household cleaners, with their concentrated formats adding a convenience factor through smaller packs. In August, P&G launched two new scents to the Flash Gel range unveiled the previous summer, although this wasn't enough to stop overall value sales falling by 2.7% [IRI 52 w/e 1 November 2014]. Cif Express Direct to Floor attracted new shoppers with its promise of greater convenience, as did the launch of Antibacterial Floor Wipes. Volumes are up 6.6% for Cif, although value has dipped 0.6%.
Convenience is very important, says Taylor. "Research shows convenience and ease of use are consumers' main priorities when it comes to selecting cleaning products. But it's essential these 'quick' solutions also deliver on quality of clean."
Other key NPD includes Mr Muscle Touch-Up cleaner - where a cloth is placed on a pump-action dispenser to collect the right amount of liquid - and the new format Flash all-purpose cleaner, featuring a cap that automatically stops pouring after one dose. Mr Muscle is up 9.2% in value and 16.9% in volume [IRI].
Multipurpose sprays
There's also evidence to suggest shoppers are looking to declutter their cleaning cupboards by switching to multipurpose cleaners. "There is a movement to all-purpose products rather than 'dedicated room' products," says Haleem Sadiq, category controller of grocery and household at convenience store supplier Bestway Wholesale.
The recent rebranding of Cif's kitchen and bathroom EasyLift sprays as Cif Power & Shine, marketed as suitable for either room, is a case in point. Unilever says the rebranding has helped deliver 12% volume growth to the Cif cleaning sprays portfolio.
RB, meanwhile, is focusing on two key messages: its products are powerful enough to do the job well, and they protect against germs. Dettol Power & Pure Advance Bathroom Spray, for example, comes with assurances that it kills 99.9% of bacteria, including e.coli and the H1NA flu virus, as well as breaking down stains without the need for rinsing.
Laundry is getting similar treatment, following the 2013 launch of Dettol Antibacterial Laundry Cleanser, a product designed to be added to low temperature washes to kill 99.9% of bacteria. According to Nielsen, by 11 October last year, it had racked up £4.8m in the major supermarkets. No wonder RB launched a powder version this month.
Overall, laundry products have seen value sales climb 1.8% to £978.2m on volumes down 1.4%. And while liquids are where most growth is coming from, powders still account for 35% of detergent sales, helping to explain RB's decision to take Dettol into powders.
"There is a core powder consumer who is hugely loyal to powder," says McBride's Whalley. "There is also a consumer perception that it is cheaper, which is not always the case, and core powder users believe there is a performance benefit in using powder."
Nevertheless, liquids and capsules are where most of the excitement is in detergents. Unilever's main laundry innovation last year was Persil Dual-Action Capsules, with stain-removing powder and a concentrated liquid in the same capsule, which helped drive value growth in Persil Capsules of 4.5% on volumes up 9.3% [Nielsen 52 w/e 11 October 2014]. Quoting data to 12 December, Unilever says Persil now has a 22% share of laundry.
"Capsules are currently driving the laundry category as consumers favour quick, easy-to-use, shelf-efficient products," says Rosalind Brown, Unilever UK marketing manager for laundry, adding this premium product was designed "to encourage new consumers to switch from powder and existing shoppers to trade up within the category."
Fabric conditioners have been the biggest growth area within the whole household and paper products category, with sales up 8.9% on volumes up 4.7% [Kantar]. Brands have used NPD to increase their dominance in fabric conditioners, with branded products increasing value 10.2% on volumes up 4.1%.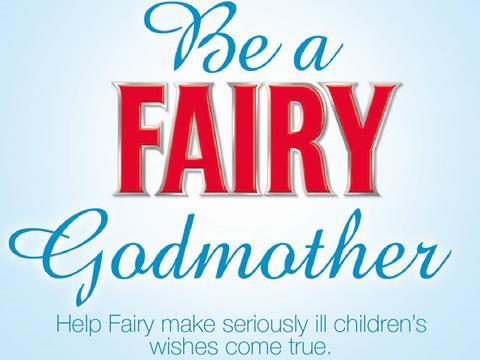 Fairy's been tugging at the heartstrings this year with its Godmother campaign. The brand has held steady over the past 12 months despite an increase in average price, as own label and rival brands have suffered from a scaling back of deal activity in hand dishwash by the mults, says P&G.
RB, meanwhile, had been promoting its Airwick and Dettol brands hard to encourage trial of new products such as Dettol Antibacterial Laundry Cleanser and Airwick Home Diffusers. Both brands have seen declines in average price. Not that Airwick isn't adding value: the new Home Signature range has an rsp of £11.99.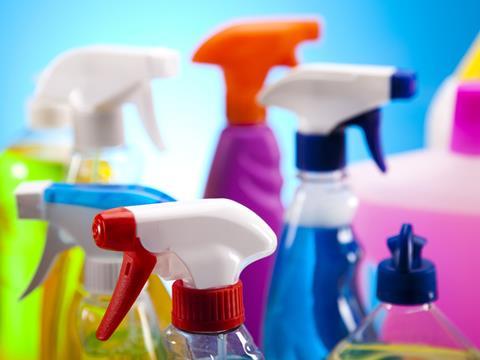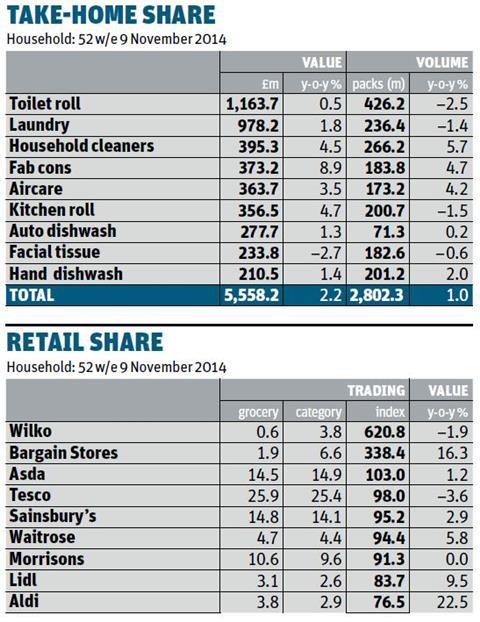 With 2.2% growth this year, household is growing ahead of the total grocery market, which is up 1%, and has experienced sustained growth over the past five years.
Growth has largely come from branded rather than own-label goods (last year both grew at about 1%). Price increases have been the key driver.
Innovation in fabric conditioners has been a hugely important factor behind the strong performance of the sector this year. Fragranced products have also been important for innovation in this category.
Growth for the aircare category has come from most formats apart from electrical, which is in decline. Non-electrical products such as diffusers and candles have turned in strong performances and serve as a good entry point to the aircare category.
Kantar Worldpanel
Fabric conditioners
"Innovation in fabric conditioners has been a hugely important factor behind the strong performance of the category this year," says Kantar analyst Carina Carter. "Brands dominate the market, and NPD is allowing shoppers to trade up to more premium formats."
"There is real growth in conditioners because people are addicted to great scents"
As the average price of own-label fabric conditioners has fallen 4.6%, that of branded products has risen by 5.6% [Kantar], the biggest price rise across the whole category. "Brands have encouraged people to trade up to premium products and to be more experiential in perfumes," says McBride's Whalley. "There's been huge promotional activity at the premium end."
The development of new scents has kept many brands busy over the past year. Last August, P&G launched Lenor Unstoppables- scented beads that are placed directly into the washing machine drum to give fragrance to washing. P&G claims it's achieved a 6% value share of the total fragrance-enhanced market and sold more than two million packs since launch. Other new fabric conditioner fragrances to emerge in 2014 include Honeysuckle & Sandalwood, Indian Rose & Musk, and Snapdragon & Patchouli in Unilever's Comfort Creations range (previously called Exhilarations).
Fragrances
"It points to one of the big trends - people are very interested in scents and sensoriality," says Ian Morley, head of household at P&G. "The reason why the laundry market is broadly flat and there is real growth in the conditioner market is because people are addicted to great scents."
Not just in terms of laundry either. Brits have spent an extra £12.2m on keeping their homes smelling good in the past year [Kantar]. That's an increase of 3.5% in value and volumes are up 4.2%. RB credits the launch of products such as its Air Wick Home Diffusers range, unveiled last year, with driving this growth, along with a change in shoppers' expectations from the supermarkets.
"retailers are seeing a huge shift in the volume of customers shopping the homecare segment for 'affordable luxuries' for home styling, fragrance and decoration," says RB marketing director Jerome Lemarie, who adds the January launch of Air Wick Life Scents, featuring changing aromas within one product, will drive further growth.
"There has been a misconception by the market to treat toilet paper as commoditised"
One area that certainly isn't smelling of roses, however, is paper products. For example, toilet roll value has inched up 0.5% on volumes down 2.5% [Kantar]. Contrary to the rest of the category, in toilet paper own label is on a roll with value up 1% and volumes more or less flat, while branded value has remained flat on volumes that have plummeted 4.6%. That the average price of a pack of own-label loo roll is 27.4% less than brands is clearly significant here.
Andrex owner Kimberly-Clark is looking to change all that. "Consumers view toilet paper as the most important item in their bathroom," says Karel van der Manderle, marketing director of intimate hygiene. "There is a massive untapped potential in there and there has been a misconception by the market to treat toilet paper as commoditised.
To realise this potential, the company is planning to relaunch Andrex, a move that will involve the harmonisation of the packaging of its moist and dry toilet paper, a new approach to merchandising that will see moist paper products flanked by dry products on shelf, and a new slogan designed to reinforce the brand's new focus on cleanliness - 'How Andrex do you feel?'
Toilet paper
According to the company's research, 37% of Britons believe they wipe themselves incorrectly. So Andrex packs will now come with a five-step guide to the "clean routine," using both dry and moist toilet paper. With penetration of the latter at only 20%, there is plenty of room for growth here. "A big challenge is educating retailers about the value of moist toilet tissue, which is the fastest-growing category in the segment," says Ashleigh Ritchie, trading controller at Today's Group.
Facial tissues are also in need of some TLC, with value down 4.5% on volumes down 2.7% [Kantar], after the mild weather last winter weighed down incidences of cold and flu. Market leader Kleenex is looking to breathe fresh life into the sector by encouraging retailers to stock pocket packs of tissues at a wider range of points in store.
"We've found this year some previously slower categories have responded to NPD"
"They shouldn't be limited to the facial tissue or Health aisles. Instead, tissues should be displayed around the store to both drive association across categories, and encourage impulse purchases. For example, tissues could be displayed in the makeup or school uniform aisles," says Kleenex marketing manager Alex Pickering, adding the brand is also focusing on display tissue boxes as another means of driving growth. "Tissue boxes are affordable home accessories and are ideal if you want to update a space without breaking the bank."
The development and sustained marketing of more premium products has paid off in kitchen roll, which is up 6.6% to £203.6m on volumes that have inched up 0.4% [Kantar]. Market leader Plenty, backed by ads featuring poster boy Juan Sheet, is driving much of the growth, with value up 10.8% on volumes up 13.5% [Nielsen]. "As household towel usage evolves, brands are recognising that consumers require a range of products suited to a variety of tasks around the home," says Laura Burrows, brand manager of Plenty. "As such, a key growth trend continues to be seen in the 'added value' sector, which is currently in strong growth."
The discounters
With Aldi, Lidl and pound stores breathing down the necks of the supermarkets in household, offering the multiples a point of difference with added value is vital, believe many brand owners. RB's Lemarie, for example, says branded NPD has helped the mults compete with the discounters, which are generally more reliant on own label. "We've found this year some previously slower categories have responded to NPD," he adds. "For example, the laundry segments where we have brands such as Dettol or Vanish."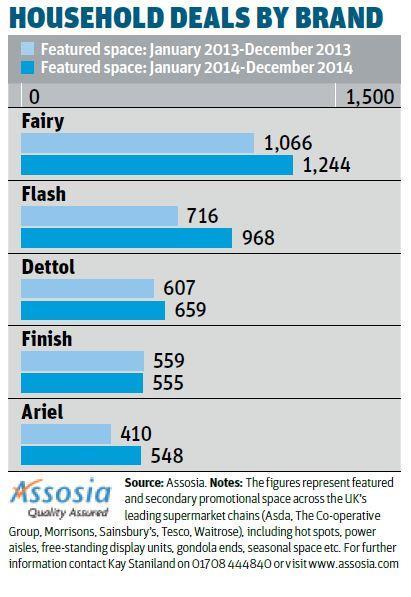 That doesn't mean the big branded houses are ignoring the discounters. "With more consumers shopping in discounters rather than larger supermarkets, it's increasingly important to think about the different solutions and experiences we can offer them at point of purchase in both outlets," says Taylor at Unilever.
Of course, price will remain a priority. Kleenex's experience over the past year makes it clear just how much so. "By August last year we'd lost half a million shoppers in the category," says Pickering. "After suffering significant shopper losses we used promotions to bring people back into the category."
Expect promotions to figure highly in the household category over the coming year too. "In the last 52 weeks across the household categories we report on, we have seen a 32% increase in the average number of promotions," says McBride brands manager Danielle Dransfield. "We expect with current trends that price promotions will remain an important driver to purchase and will be used on higher-priced household items, as footfall drivers by the retailers."
But price isn't the only way own label could differentiate itself. Taking a leaf out of brands' books and developing more convenient and multifunctional products could also pay off. As could taking a peek at the Every Woman's Book of Home Making. "We're not content to be slaves to our houses," it imparts. "If there is a quicker, easier way of doing a household job, we are eager to learn it and try it."
Perhaps not that much has changed since 1950 after all.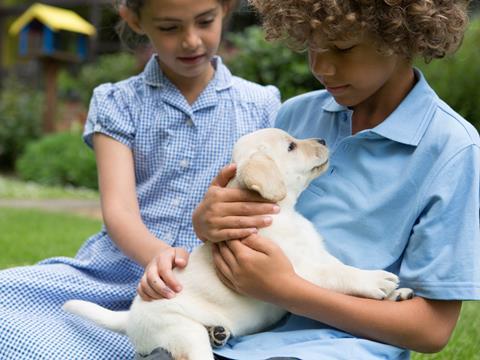 Everyone likes a puppy. That's the thinking at Anderx, which is gearing up for a packaging revamp to sustain growth. Its canine ambassador will appear on all of the rband's packs after the revamp. Velvet and Cushelle have seen sales go down the pan as Andrex has invested in big ad campaigns and the development of its moist wipe business. Kleenex suffered in part from last year's mild winter.
Plenty is the real success story in paper, however. Big investment in advertising and distribution gains have helped here.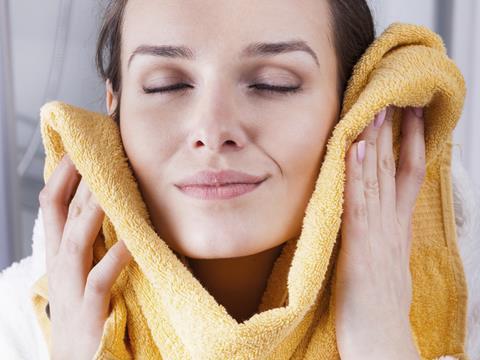 Brands get sensitive to skin allergy concerns
British shoppers increasingly want their household products to leave them with a clean bill of health as well as a clean house. A fifth of consumers are concerned about the impact of chemicals on health, according to a 2014 Mintel report on hard surface cleaners.

While the fabric conditioner sector has seen a host of new scents, such innovations do not work for all consumers. "We have identified a growing role for fragrance-free products catering for consumers with sensitive or irritable skin," says Danielle Dransfield, brands manager at McBride, whose Surcare Sensitive fabric conditioner increased value sales by 15% on volumes up 29%, driven by a 14% year-on-year increase in shoppers [Kantar 52 w/e 14 Sep 2014]. "There is an increasing trend for customers wanting dermatologically tested and approved fabric conditioner alternatives."

Skin that's sensitive to the chemicals in many household products is a big issue. Half of all British women claim to have sensitive skin, according to Kimberly-Clark's research. So, in September, it unveiled its latest addition to the UK's top-selling facial tissue brand.

Kleenex Sensitive tissues are hypoallergenic and dermatologically tested to suit people with skin allergies. Andrex is addressing a similar market with the launch of a fragrance-free moist toilet tissue last September. Andrex Gentle Clean Washlets are also biodegradable.

Meanwhile, RB last November launched a £1.6m campaign to promote Dettol, emphasising how healthy habits can help avoid cold and flu.

Method, whose products are created according to environmentally sustainable criteria, moved into air care at the end of 2014 with Method Air Refresher, an air freshener "powered by [compressed] fresh air," which contains no petroleum-based propellants.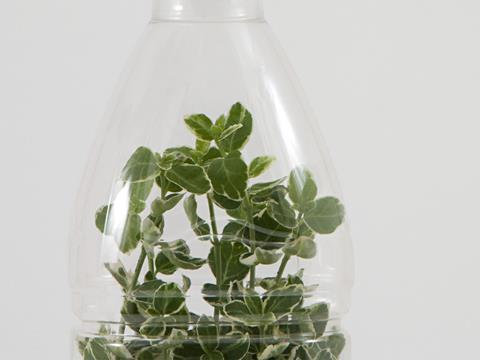 It is now almost 40 years since Ecover, one of the first ecological household cleaning brands, first appeared. Since then, there have been huge advances in both product technology and environmental awareness among consumers.

Last year, Mapa Spontex entered the eco fray, launching, in refillable bottles, its You range made from 100% plant-based and biodegradable ingredients with no synthetic dyes or perfumes.

Ecover, the Belgian pioneer of eco household products, has gone further: its award-winning Ocean Plastic Bottle is made from waste plastic taken from the ocean. The brand has also been given bright colours and new ergonomically designed bottles. "For 35 years, Ecover has put sustainability at the heart of everything we do," says Clare Allman, Ecover UK head of brand. "We wanted to take that ethos, which makes us stand out from the rest, and match it with an equally standout redesign."

The new look seems influenced by Method, the US pioneer of sustainable household products bought by Ecover in 2012. Unlike Ecover, Method's environmental credentials have always been secondary to the way its products are marketed.

"The brand is all about making sustainable desirable," says Clare Burke, UK marketing manager for Method. "The key driver isn't to talk about the environment at first, but to provide a beautifully designed product, which is effective, and then mention the benefits - non-toxic, a cleaner clean."

But such eco brands have to live up to their image. In June 2014, Ecover and Method came under fire from campaigners over proposals to use genetically engineered algae-based oils. They countered much of the criticism was factually inaccurate and promised "consultancy with key NGOs and stakeholders about the responsible use of biotechnology."
Lenor Unstoppables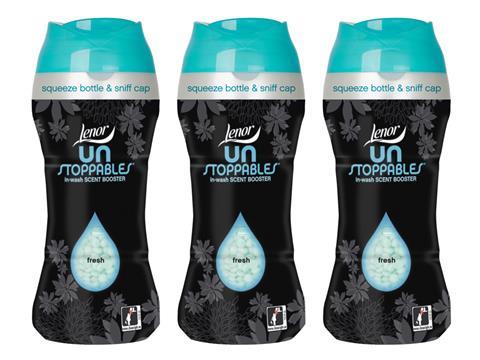 Launch date: July 2014 
Manufacturer: P&G
Lenor Unstoppables are an in-wash "scent booster" that P&G claims can add up to 12 weeks of freshness to laundry (when stored). Designed to be used in addition to fabric conditioner, the product takes the form of scent beads placed in the washing drum before the wash. Unstoppables (rsp: £5/275g; £6/375g) come in three varieties, each with its own mix of perfumes: Fresh ('marine character'), Bliss (an 'exotic cocktail'), and Lavish ('luxurious" and 'gourmand').
Domestos Power 5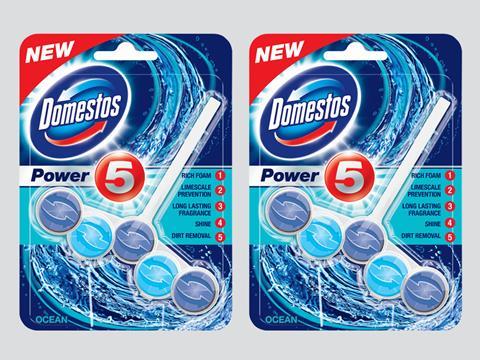 Launch date: January 2015
Manufacturer: Unilever
Domestos identified the five cleaning needs users of rim-block toilet cleaners look for: rich foam, limescale protection, long-lasting fragrance, dirt removal and shine. Domestos Power 5 delivers all five in an all-in-one solution priced (rsp: £2.50) at a premium to the brand's other rim-block cleaners, backed by a 12-week TV campaign.
Vanish White Gold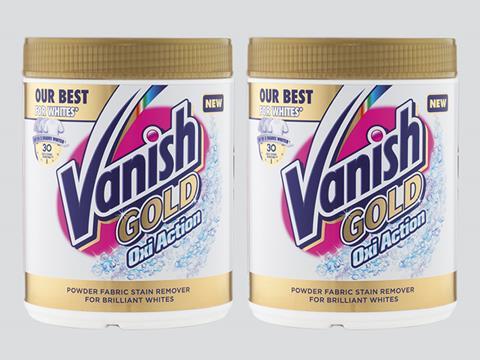 Launch date: November 2014
Manufacturer: Reckitt Benckiser
Vanish has followed the 2013 launch of its "best" stain remover Vanish Gold with a sister product for white clothes. Vanish Gold for White - rsp: £5.75/470g (powder), 940ml (gel) - has been developed to transform white clothes "up to three shades whiter" and remove stains in as little as 30 seconds.
Andrex Gentle Clean washlets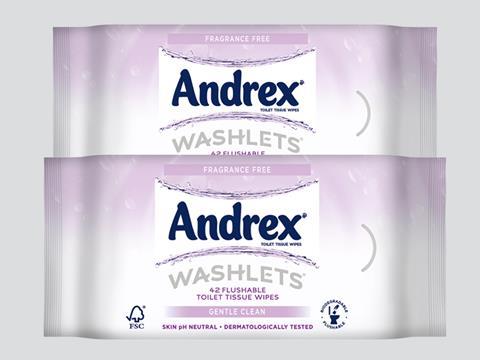 Launch date: September 2014
Manufacturer: Kimberly-Clark
Moist toilet paper is a growing part of the category, but penetration is low at 20%. Kimberly-Clark is marketing the combined use of moist and dry toilet paper to get a better clean. Andrex Gentle Clean Washlets (rsp: £1.88) is a lightly moistened fragrance-free toilet tissue. The product is biodegradable and can be disposed of by flushing