Laundry is back in value growth. After a blip last year, when consumers' long-term migration to gels and liquids was suspended as many switched to good old-fashioned (read cheaper) powders, more cutting-edge formulations are back in favour once again.

Powders have taken a beating, with Ariel the only brand in the top 20 to have avoided volume decline. Fairy has dropped 3.4% Persil 10.6% Bold 17.6% and Daz a worrying 24.4%, and Ariel's impressive value growth is outstripped by its uplift in volume, suggesting promotions played a part. At a category level, consumers' renewed willingness to splash out on gels and liquids has polarised value and volume sales - giving values a boost while the more concentrated formats have only deepened volume decline.

Volumes have also suffered from consumers cutting back on bulk-buying. Although they are shifting to pricier formats, says Nielsen client manager Muriel Illig, many are not stocking up as they used to - in part because detergents across the board have become more expensive, with prices up 6.1% on average year-on-year.

The star performers in 2012 have been Fairy and Persil liquid capsules and Persil liquid, which remains in the top spot thanks to double-digit value and volume growth. Persil has benefited from its on-pack promotions and the £5.3m push around its introduction, in July, of 'wash booster' technology.

Eco-friendly products are doing particularly well - further evidence that consumers are prepared to splash out for the right products. Products launched in 2012 include an Ecover powder and gels from Ecover and Enrituals. In May, Ecover launched its fragrance-free Zero range, while its liquid and powder have each risen two spots, to 22 and 25 respectively. Method has also grown sales of its laundry liquid by a third.

Conditioners, too, are benefiting from consumers softening their stance on non-essential spending. The category is growing in value and volume sales, driven by the two biggest brands, Comfort and Lenor. Both have reaped the rewards of increased distribution and incremental sales on promotion. Ecover is also doing well in conditioners, with growth driven by increased distribution.
TOP LANCH
Method laundry refill Method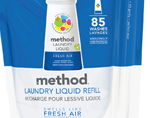 US brand Method ticked two key boxes - value and sustainability - when it launched the UK's rst detergent re ll at the end of 2011. The pouches in the laundry re ll range contain 85 washes' worth of detergent. With a retail price of £14, that works out at 16p per load, compared with 24p for the brand's original £5.99 bottle. The launch has helped the eco-friendly brand, which rst washed up on British shores in 2010, quickly establish a strong presence in the UK laundry market.