This article is part of our Digital Feature on Household.
Sales of fabric conditioner are coming up smelling of roses, lilies and red berries thanks to a raft of fragrance innovation which has helped grow the category by 12.8% in value on volumes up 8.2% [Kantar 52 w/e 1 March 2015].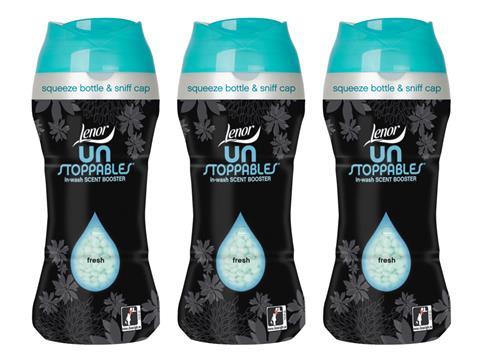 A number of the major brands have jumped on the fragrant bandwagon, including P&G with Lenor Unstoppables which has already added significant incremental growth to the category. So far, the scent boosting product has generated £21.4m [Kantar] since its July launch by appealing to British 'scent junkies' with a new format and scents.
"We have been utterly blown away by the success of this product launch and it has gone significantly above even our stretch objectives that we set ourselves for its launch," says Ian Morley, commercial director at P&G. "What also gives us huge encouragement that we are on to a winner with this is today 32% of the people who have bought it have already been back to repeat it."
Morley claims Lenor Unstoppables has so far stolen a 7% value share of the fragrance-enhanced market. "The UK is increasingly becoming a group of consumers which are very much scent junkies, and frankly they can't get enough of great scented products," he adds.
VALUE
£m
y-o-y %
Comfort
168.2
19.7
Lenor
135.3
2.4
Own Label
38.9
-1.3
Fairy
16.3
0.0
Ecover
2.4
14.6
Surcare
1.0
6.7
Overall, Lenor's sales climbed by £3.2m, owing partially to premiumisation from Unstoppables and increased purchase frequency for the overall brand. However, this growth pales in comparison to that experienced by category leader Comfort. The brand gained £27.7m, representing a 19.7% increase in value [IRI 52 w/e 21 March 2015].
Unilever's launch of three new Comfort Creations – Honeysuckle & Sandalwood, Indian Rose & Musk, and Snapdragon & Patchouli – last April helped to freshen up the market and encouraged shoppers to trade up to more premium ranges.
"Comfort is currently enjoying a strong growth and is now one of Unilever UK's fastest growing brands. We understand that fragrance is really important to our consumers, and research reveals that shoppers look to treat themselves when purchasing a fabric conditioner – much like they do when selecting a new perfume," explains Fernanda Tubini-Roberts, senior brand manager for Comfort at Unilever UK. "The launch of Comfort Creations was important for the brand and helped to cement its lead of the fabric conditioning market."
Further tapping into this need, Unilever also recently launched the concentrated Comfort Intense range which features 'dual encaps' fragrance technology designed to release continuous bursts of freshness throughout the day.
Even discount brand Senses is vying for a piece of the action, with NPD featuring fragrance booster ball technology entering the market in the coming months.
Fabric conditioners may be leading the way in scent innovation, but the trend is impacting the wider laundry market as well. In March, Surf re-vamped its core range including the introduction of new fragrance release technology and a packaging refresh, supported by a £1.6m marketing investment. And, it launched the Sensations range in Golden Blossom (of apricot, citrus and vanilla orchids) in liquid, capsule and powder formats and Delicate Moonflower fragrance in liquid and capsule format.
In association with: