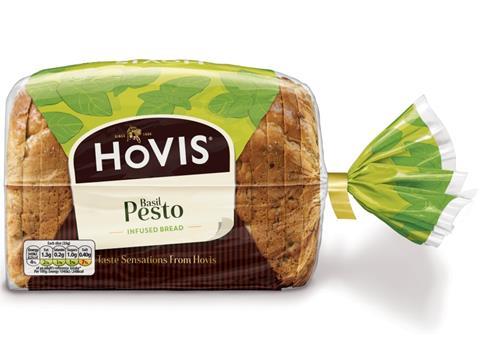 Hovis is launching three flavoured sliced loaves - its first NPD since splitting from parent company Premier Foods.

Rolling out at the end of this month, Taste Sensations (rsp: £1.49) will be available in Sundried Tomato, Basil Pesto and Fiery Sweet Red Pepper, and are designed to tap into demand for more adventurous sandwiches.

Hovis described the launch as "an exciting way to add value to the wrapped bread category". It will be hoping the breads can help to revive sales of the brand, which have fallen 13.4% in value to £358.9m as Kingsmill and Warburtons have increased share [Nielsen 52 w/e 4 January 2014].

The brand has lagged behind its rivals in development of products such as wraps and flatbreads that tap into the growing 'sandwich alternatives' market. Hovis said consumers still favoured traditional sandwich options but wanted more interesting flavours.

"The range will inspire consumers and allow them to be more creative with their sandwich as the bread will add to the overall experience," said customer marketing head Tim Dummer.

Taste Sensations is the first launch from Hovis Limited, the business created this year in a joint venture between former Hovis owner Premier Foods and US private equity firm The Gores Group, which holds a controlling 51% stake.

At the time, Premier CEO Gavin Darby - who sits on the Hovis Ltd board - said Hovis had the capability to produce a "huge range" of products and would look to grow through NPD. Hovis Ltd has launched a five-year, £200m investment programme in a bid to reinvigorate the brand.

Hovis Ltd last month announced it would return to using 100% British wheat in its bread after being temporarily forced to switch to imports by the disastrous 2012 wheat crop.