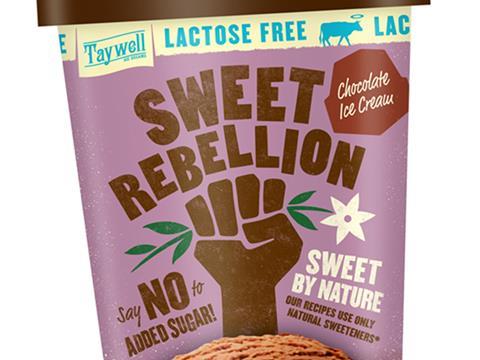 Taywell Ice Creams is launching what it claims is the UK's first dairy ice cream brand free from lactose, gluten and ­processed sugar.

Rolling out from next month, Sweet Rebellion contains from 6.8g to 8.5g of sugar per 100g, versus 15g to 25g for conventional ice cream, according to the supplier. The products use natural sweeteners - agave nectar, stevia, erythritol and palmyra jaggery derived from palm tree sap - rather than sugar or artificial sweeteners.

A key challenge, said Taywell MD Alastair Jessel, had been getting the texture and consistency of ice cream without processed sugar. The business started work on the range almost two years ago, after Jessel noticed supermarket space given to lactose-free products often emptied more quickly than their dairy counterparts.

"So many people are lactose intolerant," he said. "I felt there was room in the market for a single brand to become a champion of lactose-free dairy ice cream but incorporating the processed sugar-free issue as well."

Sweet Rebellion will launch through wholesalers The Health Store and CLF Distribution, and is awaiting a listing with Waitrose. Sold in 500ml (rsp: £5.25) and 100ml (rsp: £1.99) tubs, it is available in seven flavours. There are also three dairy-free varieties.

In January, Oppo secured £300,000 in crowdfunding to support its expansion plans. The brand makes ice cream with coconut oil, stevia, erythritol and 'superfoods' such as baobab. With a similar sugar content to Sweet Rebellion, it does contain lactose.