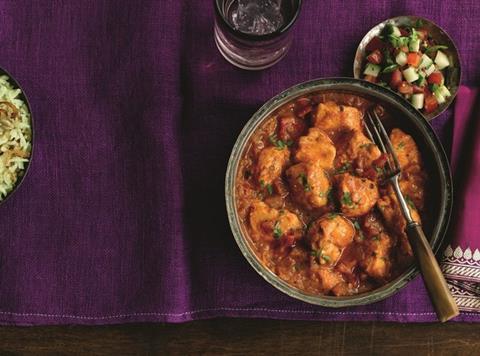 Iceland has teamed up with Slimming World to sell a brand new range of frozen ready meals.
The ten meals included in the range are based on the slimming organisation's Food Optimising eating plan, which encourages the consumption of "low energy dense foods", such as poultry, fish, grains and fruit. The move means Iceland could benefit from the custom of Slimming World's 700,000 members.
"Due to both Slimming World and Iceland's high standards, the meals have been in development for more than a year," said Iceland joint managing director Nigel Broadhurst.
"From sourcing a bespoke lean beef for our beef dish, to trying dozens of different marinated chicken pieces for tikka masala, both firms have gone much more than the extra mile – we've literally gone across the globe – to ensure every meal uses high-quality ingredients, is packed with tasty ingredients and offers great value for money."
Priced at £3 each, the 450-550g meals are frozen as soon as they are made to lock-in flavours and keep the dishes in peak condition.
Slimming World's head of nutrition and research Dr Jacquie Lavin said: "By introducing this food range that's based on Food Optimising and Free Foods, we're confident that we are helping members to succeed in their long term weight management.
"Every meal has the recipe printed on the packaging too, so consumers who may be nervous about trying new foods or testing their cooking skills are encouraged to recreate the meals at home when they have time."
The range will be exclusively available across the Iceland estate and Iceland website from 18 February.