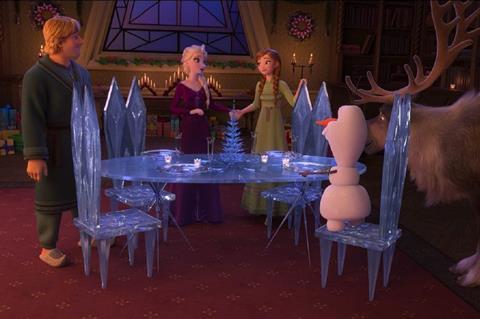 Iceland has collaborated with Disney to make a Christmas ad featuring an animated clip of characters from the forthcoming film Frozen 2.

The 40-second ad, due to debut at 8.15pm on ITV today (1 November), begins with a live-action scene of a family playing charades. A young boy tosses his Olaf cuddly toy in the air and it lands in an animated scene with other frozen characters Elsa, Anna, Kristoff and Sven.

Iceland is also selling a range of Disney Frozen 2 branded products, including 'Icicle Lollies', 'Olaf Shaped Noses' - or carrots - and the cuddly toy featured in the ad.

The supermarket's palm-oil themed 'Rang-tan' Christmas ad of last year set a high bar for the new one to meet in audience figures, gaining a claimed 70 million-plus online views.

"We wanted to treat viewers to a magical Christmas advert this year and there is no better partner than Disney. We are both experts in Frozen," said Iceland marketing director Neil Hayes.