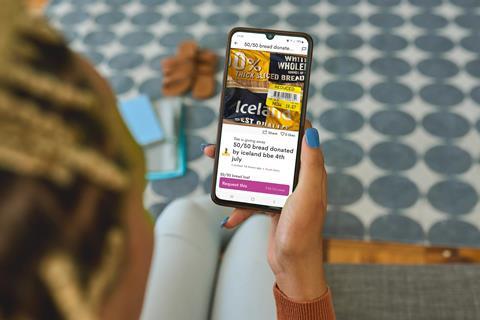 Iceland is partnering with local sharing app Olio to redistribute surplus food and cut waste from stores across the UK.
Olio users can access Iceland food products nearing the end of their shelf life for free via the app now.
Olio works using a network of 50,000 volunteers who collect surplus food from stores, take it home and put it on the app, ready to be collected by those living nearby.
Nearly 1,000 Iceland and Food Warehouse stores are participating in the scheme as of this week. It follows a pilot launched in selected branches last year that saw over 4,000 meals redistributed among 240 local families, according to Iceland.
The supermarket said the initiative complemented its existing food redistribution arrangements with charities across the UK.
Other initiatives by the retailer to tackle food waste have included giving surplus away for free to both staff and online shoppers.
"Reducing food waste continues to remain a high priority for Iceland and one that our new partnership with Olio will support," said Iceland MD Richard Walker.
"However, this partnership will also provide access to free food across the UK at a time when the cost of living continues to increase. We are proud to team with Olio and hope that Iceland customers see the benefit."
Olio co-founder and CEO Tessa Clarke said: "Our community of users will be thrilled to see Iceland's products now available via the Olio app. We've always shouted about freezing food as a way to fight food waste, and we hope this partnership with Iceland will be the beginning of more awareness raising about how your freezer can help the planet and your pocket.
"Fighting food waste is crucial in protecting the future of our planet and this partnership with Iceland will not only mean that more perfectly edible food is prevented from heading to the bin – but that thousands of people across the UK will be able to enjoy their Iceland favourites at no cost during a time when so many people are feeling the effect of the cost of living crisis."
Wrap director of collaboration and change, Catherine David, said: "We are delighted that Iceland and Olio, both Courtauld Commitment 2030 signatories, have taken this important step to ensure more good food goes to feed people.
"A best before date should not signal the end of life for any food, but sadly surplus food nearing a best before date is still not redistributed as often as it could be. Foods with a best before date applied are still good to eat beyond that date and we encourage people to use their judgement."
Other supermarkets working with Olio include Tesco, which saved a claimed five million meals from going to waste through its first year partnering with the app.