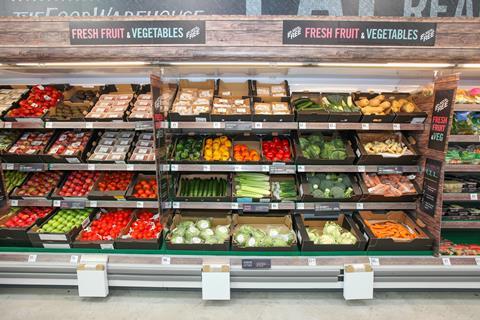 Iceland has introduced a loose fresh produce aisle trialling 35 packaging-free lines at one of its Food Warehouse stores.
A further 27 lines in the trial in north Liverpool have plastic-free packaging, using compostable alternatives.
The loose fruit and veg will be sold at lower prices than pre-packed equivalents to encourage uptake, according to Iceland.
The 35 loose lines include bananas, oranges, limes, leeks, carrots and swedes.
Plastic-free packaging on the other 27 lines includes compostable punnets and plant-based film.
The move is the latest step towards ditching plastic packaging on all own-label products by 2023, a commitment Iceland made at the beginning of last year.
It also follows research by the British Growers Association last summer which found Iceland to be the worst of the major supermarkets for plastic in the fresh aisle, with over 95% of produce packaged in some form of it.
Iceland has since removed plastic from some fresh lines across its estate of 900 stores, introducing alternatives such as recyclable paper bands for bananas. Other initiatives include a trial of reverse vending machines for plastic bottles at five stores.
The latest trial includes new in-store facilities to weigh and ticket the fresh produce.
A customer survey will gather feedback and insight will be passed on to Defra to support its consultations on waste reduction, Iceland said. The survey will seek opinions on compostable packaging, which Iceland wants to be included in food waste collections nationwide.
"Over 12 million tonnes of plastic enters the world's oceans every year and the retail industry can no longer ignore the plastics tidal wave which is coming our way," said Iceland MD Richard Walker.
"We all have a part to play in tackling the issue and Iceland is constantly looking for ways to reduce its own plastic footprint, as we work towards our commitment. We are looking forward to seeing how our customers respond to the trial and taking forward learnings to inform the rest of our journey."
An Iceland spokesman added that the supermarket had "reduced or removed" plastic packaging across 81 lines since making its commitment in January last year, amounting to a saving of over 1,500 tonnes.