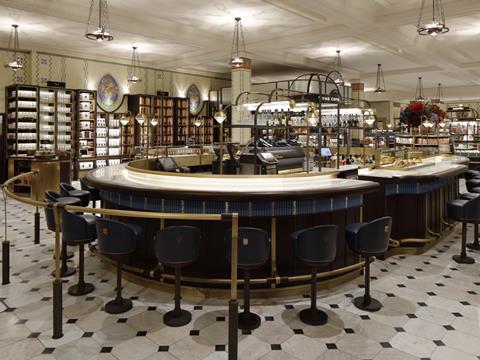 Certain things you might expect in a newly revamped Harrods food hall. A state-of-the art roaster? Check. Luxury hampers up to the value of £5,000? Check. A tea specialist preparing bespoke blends? Check. Heinz Baked Beanz? Che… wait, what?

A tin of Heinz's finest is not exactly in keeping with a destination synonymous with luxury, I suggest to Alex Dower, director of food and restaurants at Harrods. But everyday items, he says, are integral to the thinking behind its new roastery and bake hall which opened last week, the first phase in its transformation of all four food halls. "If we're being very honest, we probably got out of kilter in being relevant enough to local Londoners as opposed to international customers," Dower admits. "This room is definitely about London."

He can "100%" envisage the new-look food hall being a popular destination for a weekly grocery shop. "There's nothing a local customer can't get in here and no need to travel elsewhere." And there is plenty to appeal to the resident foodie. The coffee bar does a mean Americano - made with the signature Knightsbridge blend roasted in the hall - and the selection of freshly made patisseries including lemon meringue tarts, gold-dusted chocolate creations and rum babas are a suitably indulgent accompaniment.

It's a change that is arguably overdue. It has been 30 years since Harrods last revamped its food halls. Once a pioneer in the food arena, with innovations such as chilled food aisles, exotic fruits and premium coffee, there is a sense it has slipped behind as artisanal London producers have taken off. Now Harrods has recruited in-house specialists across its coffee, tea and bakery to shape their sections and give out information on the shop floor. "We want to get back to leading the way in food," says Dower.


Harrods has clearly dedicated an extensive amount of time and resource to making the project work. Dower has had the enviable job of travelling the world in search of inspiration from overseas food halls. "There are certain elements of brilliance out there. Australia does coffee brilliantly. And in Korea you will see grocery displayed with meticulous attention to detail. But no one combines them all, and that's what this is about." Then there was the physical work involved in the four-month renovation. As an occupant of a Grade II listed building, Harrods needed to work with English Heritage to get the details right, painstakingly restoring individual tiles and cartouches.

The work will be followed by a renovation of the three remaining food halls - devoted to decadence, chilled food and dining - by the first half of 2019.

Dower is confident this investment will pay off. The key to success is tapping three major foodie trends: provenance, specialism and convenience. As consumers become increasingly preoccupied with where their food comes from, Harrods has intentionally housed its roastery in a glass structure in full view of shoppers. "The ultimate provenance is food and drink made in front of you. That engenders trust," he says.
In terms of specialism, Harrods is a hard one to beat. Under the direction of master baker Lance Gardner, the bakery produces daily batches of goods such as a four-ingredient sourdough and rye bread. The Harrods tea tailor can talk customers through flavour profiles to create their own personal blend. Newly recruited master roaster Bartosz Ciepaj can explain the subtleties of Kenyan and Colombian coffee brews. The UK consumer has come a long way since their only coffee choice was 'black' or 'white' says Dower. "It's now about whether they are single-origin beans, how the milk is prepared and is it filter or espresso-based," he says. "Our customers are some of the most discerning in the world."

Finally, the roastery and bakery are all about convenience. Not only is it combining expertise "all under one roof", Dower says, but plenty of thought has been put into what it sells. The ground coffee, for example, can be put into a Nespresso-compatible pod. Plus, Harrods has opened new café Roast and Bake just opposite its Knightsbridge premises to attract the grab and go trade.

With that, the bakery bell rings to signal a new batch of bread is fresh from the oven: a sourdough engraved with the trademark Harrods 'H'. It would make for a cracking beans on toast.