Last week Tesco unveiled its new, hotly anticipated discount chain Jack's. To find out what the shopping experience is like, we sent a Grocer 33 mystery shopper to review Jack's Chatteris. Here's what they thought
Our shopper: female, aged 44 from Cambridge.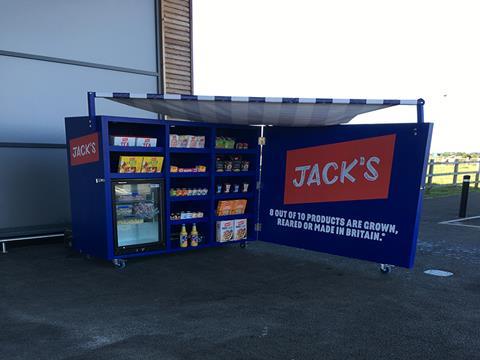 "There was a little display in the car park of some of the products. A lot of the displays reminded me of an old grocery store, for example this one in the car park with its striped canopy."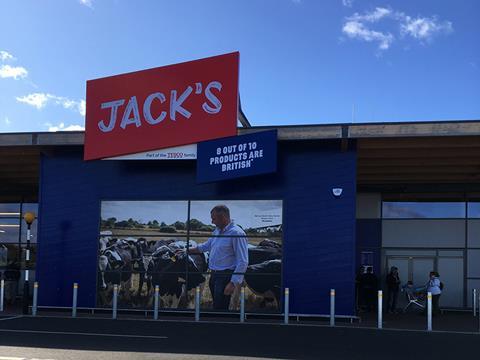 "Upon entering the store I was greeted by two members of staff giving away free tasters.
"A member of staff asked if they could speak to me for a moment and explained that the store has its own scanning app, which works in a similar way to the self-scanners in Tesco, where you use your phone to scan the barcode next to the food item to save time at checkout. She pointed out that it only has four checkouts if you don't wish to self-scan or self-serve.
"I saw a couple of people using the scanner as I went round the store – it appeared easy to use."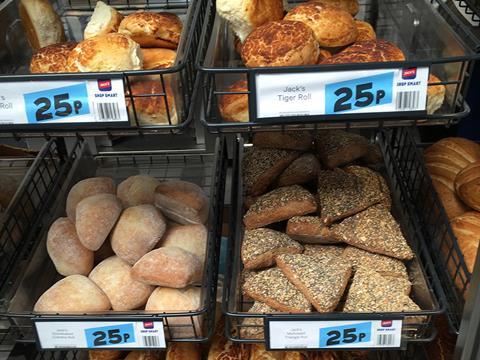 "The entrance led straight into the bakery section which was very busy with some nice products."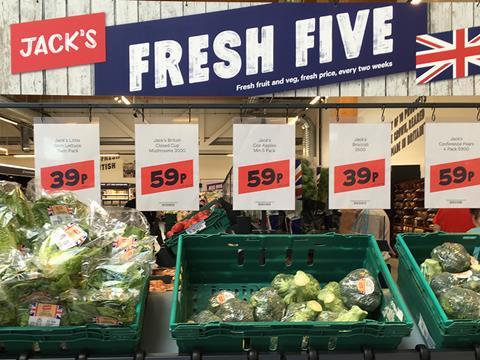 "After the initial entrance in bakery came the fruit and vegetable section, where there was a large display of a 'fresh five' promotion. The sign said they were rotated every two weeks."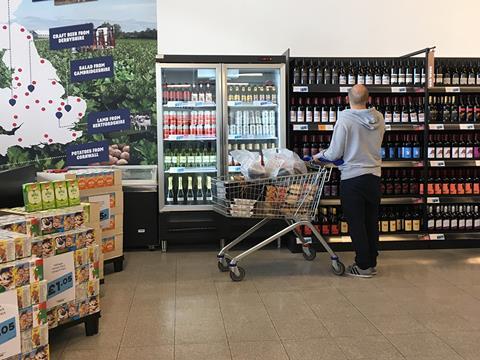 "The store felt very spacious. I really liked how wide the aisles were and it had high ceilings with wooden beams and large windows to the front. Even though by the end of my shop it was starting to get quite busy, it only felt busy at the checkouts."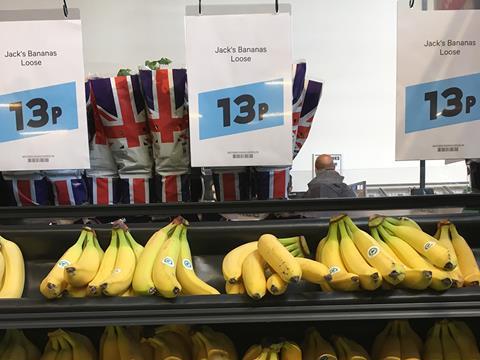 "Whilst walking around the store I heard shoppers saying they wish they had downloaded the app. Another shopper was confused a little by the cheap pricing pictured above – she couldn't tell whether it was 13p per banana or for a particular weight of banana."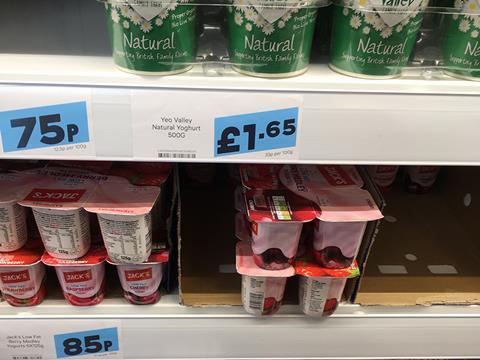 "The product range was average. It was mainly Jack's products or little-known brands which were very cheap, alongside two to three well-known brands within each section. All of the products were clearly priced with red and blue labels – I couldn't distinguish between the two and I'm not sure if the colour difference was for a reason."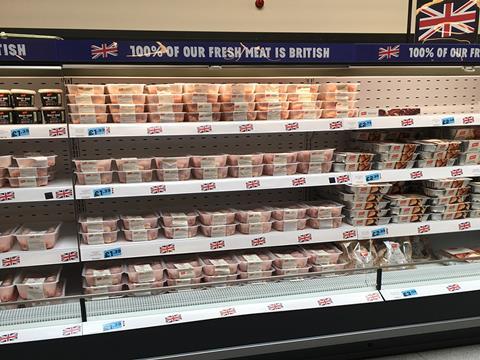 "The theme throughout the store and on most of the signs was about how the majority of the products were British. Outside it stated eight out of 10 products were British and it was the same throughout the store. In the meat section there is a regular sign stating that 100% of the meat is British."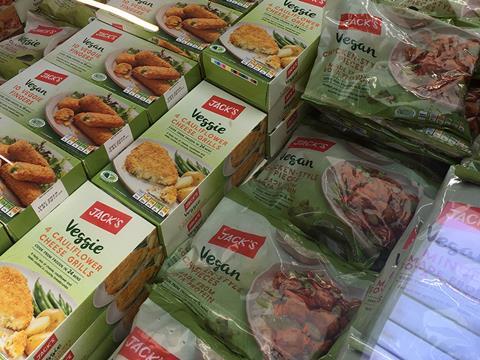 "I was quite impressed that they had a small vegan section within the frozen aisle and some vegetarian frozen products alongside some Quorn products."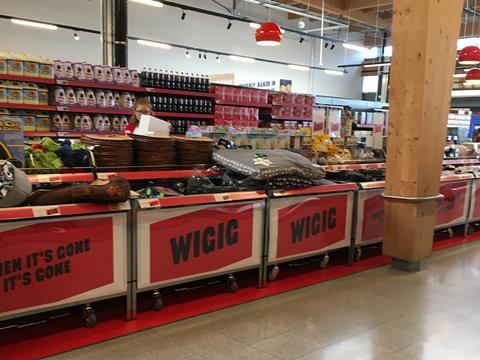 "Similar to Aldi and Lidl, in the middle of the store there are products you would not normally find in a supermarket like dog baskets alongside electrical products and some random household goods. The store seemed to separate the section using red lights above. It did feel much more organised than what I have seen in cheaper supermarkets."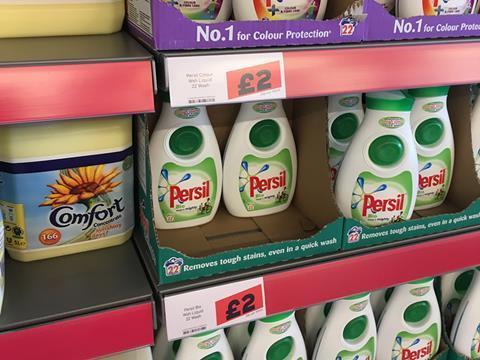 "There was one short aisle wiith cheaper well-known products. It had really good deals such as Persil detergent for £2."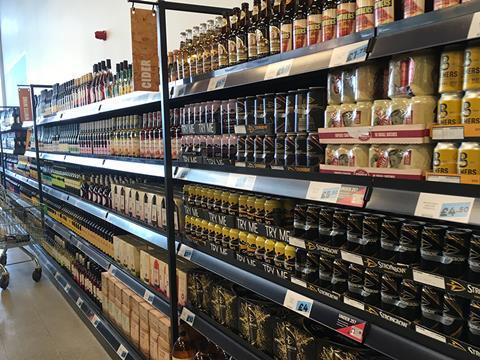 "The alcohol section was quite large but a lot of the alcohol was very cheap. In the spirits section there were some known brands at slightly lower prices, for example Bombay Sapphire Gin, alongside little-known brands for cheaper amounts."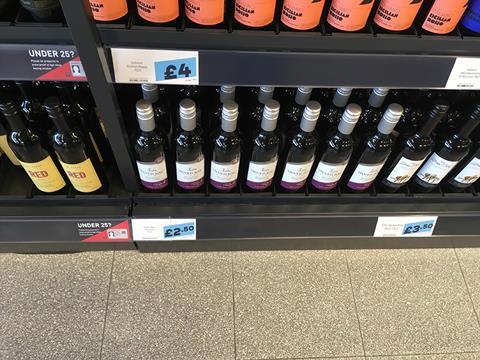 "There were many bottles of wine priced between £2.50 to £8. There were not many expensive wines."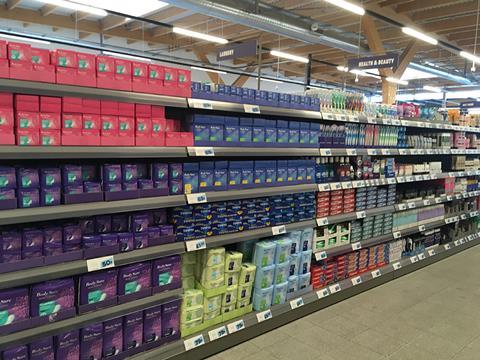 "The health and beauty section was a little disappointing in that the only beauty products seemed to be shampoo and conditioner, some hair clips and feminine hygiene products. There was no makeup or nail varnish."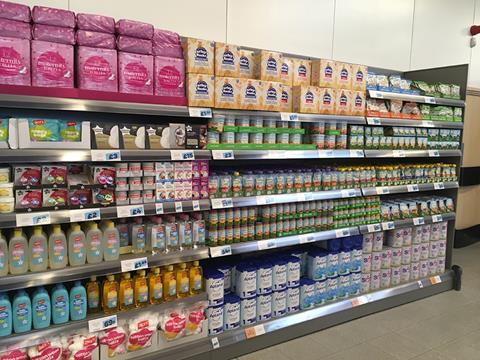 "Similarly, the baby section was limited. I noticed there were not many high street brands but a fair selection of own-brand nappies and wipes. Snacks for children were again limited particularly in healthy snacks. I found children's biscuits and bars but no organic or healthy children's snacks."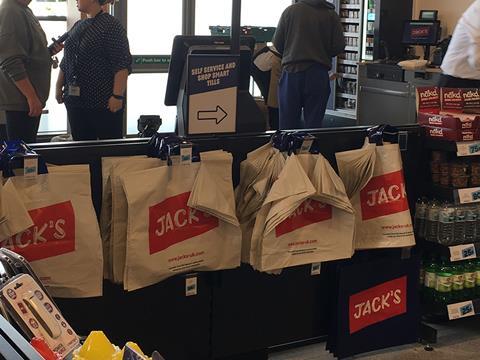 "There were lots of staff available who were keen, happy and eager to help. Each one mentioned Tesco when answering a question. For example, when I asked how much the plastic bags were I was told 10p like Tesco, or the scanning app was likened to the Tesco scanner. When I came to pay I felt they needed more checkouts but the checkout stage felt spacious and wasn't cramped. I waited eight minutes from when I joined the queue to reaching the checkout. There were five self-service checkouts and four serviced tills."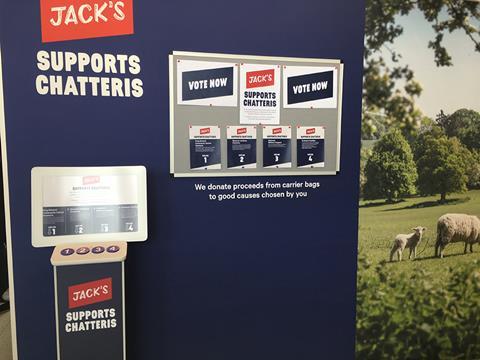 "On the way out I noticed they had a voting area which was collecting for local charities, but this was being done electronically unlike the token system used by some other supermarkets."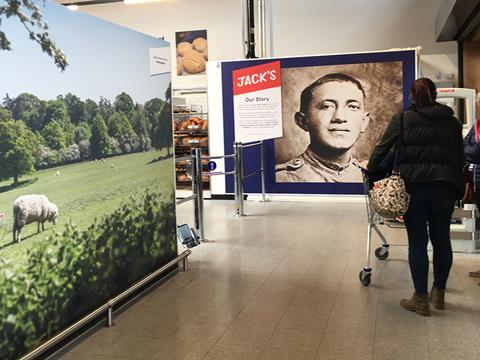 "They seem to be plugging the British theme alongside the history behind starting the supermarket."
Verdict
"I would shop there again. I don't like Lidl and Aldi because I don't like the layouts and often I don't like the products. I liked that Jack's had its own bakery, a good deli selection and was spacious. I think it needed more products for children, a few more high-end products for people who wanted those and definitely more checkouts. I have tried some of the products and have been very happy with them."