Until a few weeks ago, the received wisdom was that dairy commodity prices would fall in 2014. Feed costs were expected to drop as a result of bumper harvests in the northern hemisphere, taking dairy down with them.
But now, the situation couldn't look more different.
The Global Dairy Trade (GDT) auction in December rose 3.9% on the previous two weeks, and suddenly the prospect of lower milk prices in the new year is in doubt.
Despite good harvests, grain and soybean prices have only eased back slightly as demand has been strong.
But the real game changer has been China: Chinese press last week reported that as many as two million cattle - many of them dairy cows - have been slaughtered in China this year, largely in response to drought conditions, and the country is now forecast to be five million tonnes short of dairy products.
We have known for the past decade about the latent potential for increased global demand for food commodities. Add that to the serious drought in China and we have Chinese demand putting us on the escalator to potentially higher commodity prices again, despite record world output.
In the short term, the implications for UK dairy are that we could see international prices plateauing at current record prices for longer than anticipated. Longer term, the implications are more profound. Higher food commodity prices and the improving competitiveness of UK dairy farmers is bringing them to a position where they will have viable markets other than the UK.
As a result, the need to work within UK supply chains will become more important, and retailers will want to build up relationships to ensure security of British supply.
Commodity prices: increased demand pushes up price of cocoa powder
Cocoa powder prices have started to pick up on a month-on-month basis in response to increased demand from buyers who were previously delaying their purchases. However, prices are down considerably on a year-on-year basis.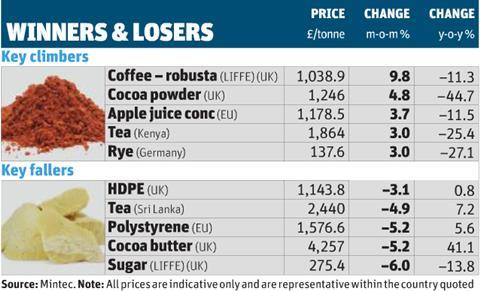 It's the opposite story for cocoa butter. Prices remain up significantly year on year, but have fallen over the past month because of slower demand. Since cocoa butter and powder prices often move in opposite directions, a rise in powder prices can pressure butter.
Meanwhile, despite some upward movement month on month, tea prices are still down year on year because of increased production in Kenya, while rye prices also remain cheaper than last year because of good supplies.