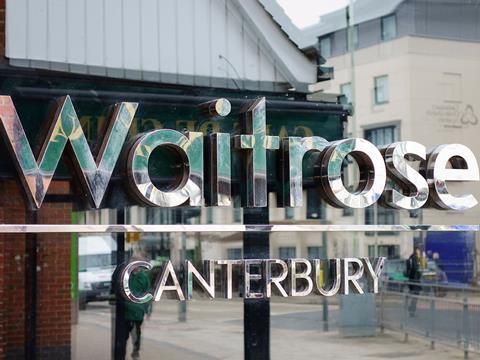 Choosing where to shop for your groceries in historic Canterbury is no easy task. Figures compiled for The Grocer show, alongside its religious and literary fame, it is one of the top 10 most heavily overserviced by supermarkets.
Indeed, the Canterbury postcode is the only one in the top 10 with more than a million sq ft of supermarket space, according to CACI research and one of eight in the UK to offer more than 2.5 sq ft of supermarket space per head of population - only counting stores of more than 8,000 sq ft.
In Canterbury city alone, there is 250,000 sq ft of space including an Aldi, Asda, Budgens, The Co-op Group, Iceland, M&S, Morrisons, Sainsbury's, Tesco and Waitrose - plus, within walking distance of the famous cathedral, more than 20 c-stores.
However, the student and tourist hotspot is evidently not a bottomless pit when it comes to customers or sales.
In March, Sainsbury's abandoned plans for a new supermarket and petrol station in the Kingsmead area of Canterbury, which had been due to replace a smaller store in the area, describing the project as "no longer financially viable in the context of changing shopping patterns."
So, will this be one of many postcodes that ends up seeing cancelled store openings or indeed closures? A report by Goldman Sachs last week predicted up to 20% of store capacity would need to shut for the big three listed supermarkets to rediscover profitable growth, describing "capacity exit" as the "only viable solution" for retailers reeling from the exodus to online and the discounters.
Council leader John Gilbey sees two sides to Canterbury's supermarket tale. "There was a lot of disappointment [when Sainsbury's new store was axed] because it was a scheme to replace an old store and was seen as a chance to redevelop that part of Canterbury," he says. "But I just don't think there is room for any more."
"And there has to be an element of greed [in the expansion of the supermarkets]," he adds. "Canterbury used to have some lovely independent butchers and other grocery stores. You just don't see them any more because of all the competition."
Consumers don't all share Gilbey's view. "I think supermarkets have managed to be sympathetic with the city," says Mari Coyle, 42, a university arts centre worker. "Most of the big supermarkets are out of town and it doesn't seem to have detracted from the area."
Snowed under
Nearly 500 miles north of Canterbury, the Scottish town of Falkirk is another postcode identified by CACI reaching supermarket saturation. The situation is again polarising. "It's getting ridiculous," says mother-of-two Fiona Grant. "We are swamped with supermarkets and it's impacting on ­independent stores."
Esther Johnston, a grandmother from the town, disagrees. "I think it's good for people to have a choice," she says. "My neighbour reckons they have been saving at least £30 a week by going to Aldi or Lidl. And these retailers also provide a lot of jobs for local people."
It's a view recently shared by the prime minister after welcoming Aldi's plan for 35,000 new jobs. But the question is, in a crowded market, surely these new jobs will simply cannibalise existing store jobs?
Not necessarily, says a Bernstein report. While acknowledging that swathes of the UK are oversaturated - including the South West, Wales and Scotland, all of which have 72 large stores per million capita - it's far too simplistic to see the UK market as oversaturated. "It's time to stop this doomsday thinking," says Bruno Monteyne, senior analyst at Bernstein. The typical UK consumer has 3.5 stores to choose from within their 'local area'-defined as 'nearest store + 5 minutes additional driving'.
"That compares unfavourably with most other developed nations - only developing countries have less choice," says Monteyne, citing countries including the US, France, Belgium, Holland and Spain. Indeed, it's only narrowly ahead of Romania. Monteyne claims closing stores would "in most instances" simply hand space to competitors.
Repurposing
Clive Black, analyst at Shore Capital, agrees that store closures are less likely than canning store replacement plans like the Sainsbury's in Canterbury, with other stores likely to be re-purposed, some as dark stores, others with space sub-let to other retailers, the latter a move already underway at Tesco and Sainsbury's.
Yet Ian Thurman, of Spatial Nation, who previously led the location planning team at CACI, claims it would be "financial madness" for retailers not to conduct a mass "close/reduce/keep" debate, arguing this will be the biggest issue in town planning for the next decade.
"Any new space must be reviewed in terms of the marginal gain to the network," he says. "It's no use opening a store with an estimated turnover of £3m and a satisfactory ROI if it cannibalises existing trade and results in only a marginal gain of £2m to the network."
With a further 41 postcodes in the UK, like Canterbury, busting the million sq ft mark for supermarket space, the implications of those decisions are likely to be massive.