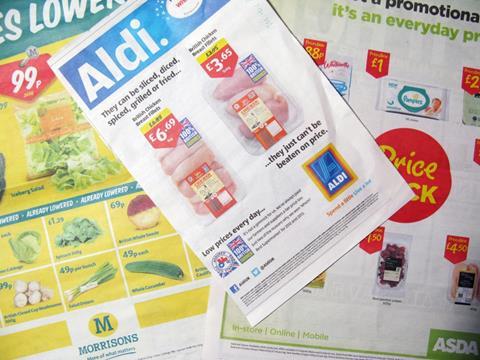 `Overall deflation at the big four grocers is deepening again, despite last month being the first for almost a year when all the major grocers did not see falling prices.

The latest Grocer Price Index, calculated by Brand View tracking over 60,000 individual SKUs across the big four, recorded annual price deflation of -1.9% in the month to 1 July. Though this remains short of the record 2.5% year-on-year price cuts seen in the month to 1 April, it represents a significant rise from the -1.6% recorded in the two previous months.

Year-on-year deflation had been easing as annual comparatives have become tougher, but the 1.9% drop seen this month is the third-highest annual price fall recorded to date. The big four have now recorded deflation every month for over a year.

At individual retailer level, the picture is more complex. Indeed, despite the uptick in deflation across the big four on average, this month was the first not to see price cuts in every single retailer since August 2014 - illustrating how challenging it is becoming to get a definitive read on deflation.

Annual deflation accelerated in the month to 1 July at Tesco, Sainsbury's and Morrisons, but Asda showed its first price rises since the month to 1 June 2014. Asda's overall prices were up 0.1% year on year, compared with -2.5% at Sainsbury's and Tesco and -2.4% at Morrisons.

The rises at Asda partly reflect that Asda's price file was significantly sharper than its competitors back in mid-2014 and so prices have had to come down less on a comparative basis to be competitive in the price war. Asda being an outlier on price cuts also looks reflective of its strategy not to get involved to the same extent in margin-destroying promotions to chase lost volumes at the expense of profits.

Asda CEO Andy Clarke told The Grocer last week: "The market has become extremely price competitive but you have to have a plan for how you can afford to deliver it. We have a more stable position as we are not facing a rebasing of our operating income that some of our competitors have had to go through."

Across the big four, the biggest annual price cuts were seen in deli (-4.8%), bakery (-4.3%) and meat, fish & poultry (-4%).

Dairy products remain a key front of the price war, with the category falling 3.6% across the big four. Notably, Asda, Sainsbury's and Tesco have all cut the price of a pint of milk since the end of June.

On a month-on-month basis, average prices four were down 0.7%, with deflation seen in every category compared with the month to 1 June 2015. Deli (-3.8%) and frozen (-3.1%) saw the biggest monthly price cuts.

Waitrose, not included in the headline GPI figure, saw prices rise 1.4% year on year - its first monthly price rise for over a year and the highest annual deflation recorded by any supermarket since its own 2.3% inflation in the month to 1 April.