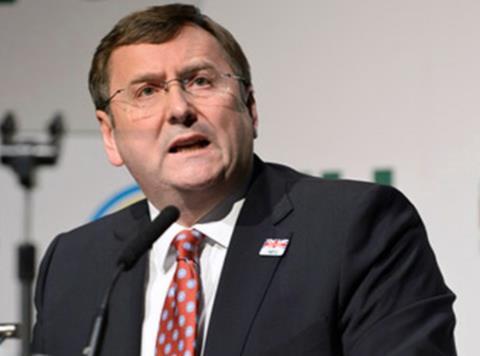 What about Philip Clarke? That's what everyone wants to know, after the Serious Fraud Office charged three of his Tesco subordinates - UK MD Chris Bush, commercial director John Scouler and UK finance director Carl Rogberg - with two counts of fraud this morning, as part of its long-running investigation into the Tesco profits mis-statement scandal of 2014.

The charges against the three are extremely serious: fraud by abuse of position (see box) carries a maximum prison sentence of 10 years, with up to seven years for the second charge of fraud by false accounting. And following a near two-year investigation (it started in October 2014) this is the first official move the SFO has made. So it carries huge weight. But details are scant, with the SFO noting in a terse statement only the names and ages of the individuals charged, the date that the alleged activity occurred ("between February 2014 and September 2014") and the date (22 September) and location (Westminster Magistrates' Court) on which they must appear to face the charges. "The investigation into Tesco PLC remains ongoing," the SFO added. And that was it.

No mention of Philip Clarke, Tesco's ex-CEO, who is understood to have been questioned by the SFO 'under caution' as long ago as last August 2015. And some media organisations have reported this afternoon that they understand Clarke will not be charged. But the SFO refused to confirm or deny those reports, though it did say it was still possible that further individuals could face action.

We simply won't know who's off the hook and who's not until the investigation is complete ("in a matter of months not years, but not weeks either," a spokewoman advised me). But it would be a huge scalp for the SFO - under fire for going over budget and for its failure to catch a really big fish - to put the ex-CEO behind bars. Indeed one retail expert suggested the SFO may have charged the Tesco three first to encourage them to enter into a plea-bargain, with a reduced sentence in return for more information about Clarke's possible role in the scandal.
The Charges: Notes & Definitions
Fraud by abuse of position
When someone abuses their position of authority or trust against another person for personal or financial gain or to cause loss to another (contrary to section 1 and 4 of the Fraud Act 2006). This carries a maximum prison sentence of 10 years
False accounting fraud
When company assets are overstated or liabilities are understaed in order to make a business appear financially stronger than it really is (contrary to s17 Theft Act 1968). This carries a maximum prison sentence of seven years.
As to the Tesco three, the trial will take place independently of the SFO's investigation, and could take up to a year to come to court, say legal experts, with the defendants likely to be remanded on bail following the hearing on 22 September, when the charges will be formally presented.

Speaking on behalf of Chris Bush, Ross Dixon at Hickman & Rose Solicitors said their client was "extremely disappointed" with the SFO's decision to press charges. "He is not guilty and from the outset has fully cooperated with both Tesco and the SFO. He will vigorously contest these allegations and is confident he will be cleared of any wrong doing," Dixon said.

John Scouler, who took up a new commercial director role at Talk Talk last summer (working for ex-Tesco colleague Dido Harding) could not be reached, but was "on sabbatical" according to Talk Talk following today's revelations. The whereabouts of Carl Rogberg is unknown.

But it's Philip Clarke we all want to know about now. Oh, and how much Tesco will have to shell out, in the final reckoning, of course.