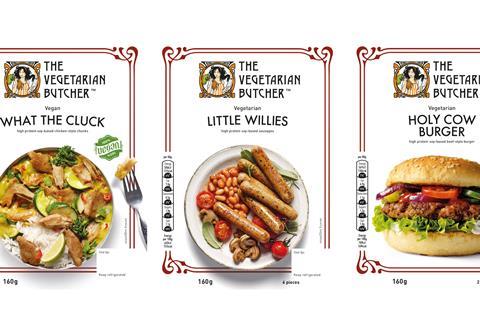 It's the holy grail of plant-based fast food. After months of speculation, Burger King's vegan whopper - a smash hit in the US - has finally landed in mainland Europe. And it's not quite what we expected. In the US, the chain's Impossible Whopper plant-based patty is manufactured by the high-profile Impossible Foods. A company that's been valued at a whopping $5bn.

Meanwhile, McDonald's is developing the PLT (or Plant. Lettuce. Tomato) with Beyond Meat, which was recently valued at a supersized $9bn.

The Rebel Whopper, by contrast, comes courtesy of The Vegetarian Butcher, a Dutch business with a far lower profile, despite its acquisition by Unilever late last year.
On the face of it, it's a surprising choice. While it's available in 4,000 outlets in 17 countries, in the UK at least The Vegetarian Butcher has hardly been ripping up trees: despite a headstart on Beyond Meat, UK sales of its Little Willies, Little Peckers and What the Cluck chicken pieces were just £1m [Nielsen 52 w/e 7 September 2019] and distribution is limited to Waitrose and Tesco - whereas Beyond Meat sales topped £1.6m in just nine months since its November 2018 launch.

So it's a massive coup for Unilever that its unfancied brand will now have a presence in 2,500 fast food outlets in Europe - with UK distribution to follow early next year. Even though the name Rebel Whopper means it's unlikely to do much for brand awareness, Unilever won't care two hoots, as a contract like this could transform sales.

While other food giants, from Kerry and Tulip to Nestlé and Premier, are trying to muscle into plant-based, it's not an easy market to crack - as Nestlé found out with its Garden Gourmet launch - and has appeared better suited to challenger brands that are more comfortable mixing evangelism with hype. Unilever's punt was to buy and build with an unpromising brand, with taste the key selling point. And with this deal it's paid off. Big time. Unilever hasn't disclosed how much it paid for The Vegetarian Butcher, but it's likely to be a fraction of the cost of investing in Beyond or Impossible.