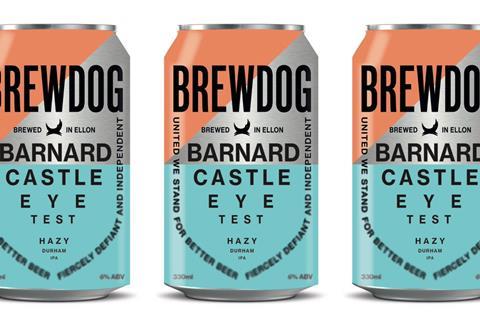 BrewDog has been at it again this week, with the launch of a 6% abv Barnard Castle Eye Test pale ale for those with "hazy" eyesight.

As well as a dig at the establishment (BrewDog has never been afraid to call a spad a spad) it's a great example of how brands can use direct to consumer (DTC) as a channel. It's never going to launch this via the mults but it creates publicity, generates goodwill (all proceeds go towards production of its hand sanitisers) and delivers data, too. The pack size and price (a 12-pack for £16.99) is also sufficient to ensure this PR stunt isn't eye-wateringly expensive.

BrewDog first opened a DTC operation in 2018. Others have discovered this route to market more recently, and with impressive speed, launching DTC operations sometimes in a matter of weeks. Some have been homespun, local operations. Others have involved really big brands like Heinz and Princes. Some have teamed up. Others have done this solo. But whether it's a question of adapting to survive, seizing new opportunities, or gaining a few brownie points, it shows how responsive and resourceful this industry has been to the crisis. And though some DTC operations may not stand the test of time, just like the impressive scaling up of online retail operations - where sales have soared 75% yet still cannot meet the insatiable demand - some are surely going to change shopper behaviours after the coronavirus crisis is over.

Yet even with demand sky high, making money from DTC isn't easy. Take Farmdrop, the specialist ethical online supermarket-cum veg box operator. Like others in the meal kit and takeaway delivery space, sales are growing at "an unprecedented rate" right now. But despite raising £25m from investors (including ex-Asda boss Andy Bond) since 2012, losses have been mounting, and according to its auditor there's "a material uncertainty" as to its future without more cash. As we've seen with Amazon, Ocado and Deliveroo, investors have placed sky-high valuations on online businesses on the basis of exponential growth - and future profits. But you can lose a fortune if the horse you pick runs out of puff (or cash).