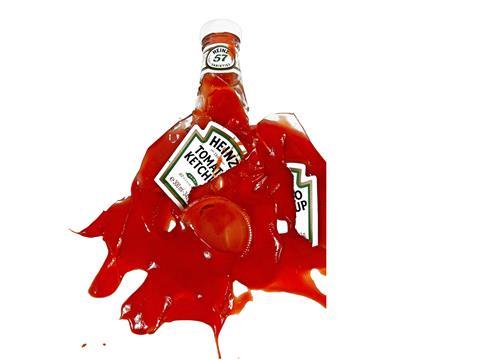 Check out the price of Heinz tomato soup in this week's Grocer 33. Up a whopping 41% at the major mults. And that's despite the price at Tesco not budging, as it's dug in its heels, in a mighty trade dispute over cost price increases with the US multinational.
Heinz has been pushing punchy price increases through across all the retailers (including Tesco) in recent months. And not just on soup, of course. It's put the 'up' in ketch-up – by as much as 46.8% at Morrisons for a 460g bottle. Heinz Spaghetti Hoops have jumped 66.7% at Sainsbury's for a 400g can. And Beanz? The baked-in price for a 415g can these days is at least £1, with Asda's price up 60% to £1.20.
Clearly Heinz Meanz Cost Price Increasez.
Of course, not all Heinz SKUs are up this much. It's learned that lesson from Unilever's Marmitegate. Some haven't moved, some are up a bit, some are up more! Its Mayo Ketchup 425g bottle is up 81.2% at Tesco. The latter is a relatively niche product but even so it seems unlikely the changes are linked strictly to cost of goods, as retailers have been asking via their 'justification sheets'. And Tesco has said: enough is enough. As a senior Tesco exec told me: "You know suppliers are up against it at the moment, but some of these brands are obviously trying to cover every possible risk."
Read more:
The game of risk has only escalated with this dispute. On both sides. On the one hand, it does Tesco no harm to be seen to be publicly standing up for the consumer on such a much-loved, high-profile brand. It also sends a signal to other suppliers. On the other, when a settlement is ultimately reached, and prices go up (as they surely will), how good will Tesco look then?
The risk for Heinz is considerable too, though. If it caves in, that puts it in an invidious position with Tesco's rivals. So it can't back down. And with its awesome brands, it's easier to push Tesco around than if it were a primary producer. So it will no doubt be arguing its cost of goods, on oils, tomatoes, cans, plastic, cardboard etc are justification. But it's widening the gap between brands and own label. Something retailers have been doing artificially anyway. They'll need no encouragement.