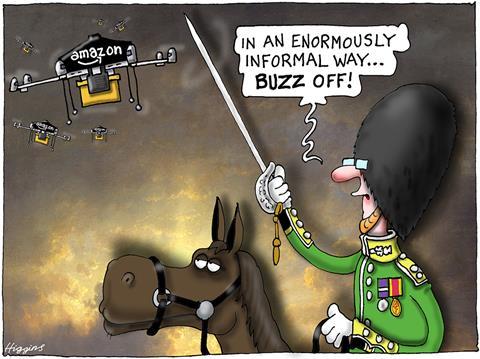 What are we going to do now? That's no doubt been the reaction among retailers, wholesalers and suppliers to the proposed Sainsbury's-Asda merger news.

It's a corporate matchmaker's dream. Take Morrisons, for example. Will it tie the knot with Amazon (with whom it's building a nice relationship), court the Co-op (to enter convenience), swipe right on M&S Food (my suggestion that M&S Food is being groomed for a possible disposal is gaining currency), or buddy up with Waitrose (whose geographic focus dovetails nicely), for example?

Morrisons CEO David Potts vowed this week that "competition will only make us stronger", and it's beavering away, with its wholesale business growing tidily, while the tie-up with Ocado will have greater traction once Ocado's enormous shed in Erith opens. But will there be enough differentiation, complementarity and accretiveness in these deals to vie with a combined Sainsbury's-Asda?

Consider Aldi's latest guest appearance in the Grocer 33 , where it was 11.7% cheaper than Asda, 16.1% cheaper than Sainsbury's, 18.6% cheaper than Tesco, and 20.5% cheaper than Morrisons. Our 33 is not quite a representative sample, I grant you, but it's nonetheless instructive. If Asda closes that gap to 1.7% and Sainsbury's reduces it to 6.1%, Tesco and Morrisons will be seriously out of kilter with its big four rivals.

As we reveal this week, Tesco is meanwhile clearing space in all its Extras for Chef Centrals, not just those that don't have a Booker nearby, showing that it sees this proposition as a clear point of differentiation in the future versus its rivals, and it evidently has lots of gains to go after on the Booker side, as it builds on its existing momentum but with the prospect of further enhancement from the Tesco tieup in own label.

Ocado is also in a potential predicament, domestically speaking, especially if it loses either Morrisons or Waitrose to Amazon, though interestingly it is envisioning a bold future in which robots pick 100% of its products and, of course, it has its burgeoning international licensing arm.

I even expect the Sainsbury's/Asda merger to give the discounters pause for thought, since Mike Coupe & Co will surely focus the 1000-strong price cuts on lines where the discounters are sharpest. No-one's been able to do that to date due to the unique low-cost business model of Aldi and Lidl. On the other hand, there's more than price to the discounter proposition these days, as their performance in The Grocer's Own-Label Food & Drink Awards shows.

The other vulnerable player is Waitrose. The Sunday Times reported last weekend that "enormously informal" talks with Amazon had been rebuffed by the JLP board last November. That's hardly surprising. Sir Charlie Mayfield is not far off retirement, and he would not want to be remembered as the man who dismembered the Partnership (though intriguingly, Waitrose is a wholly owned subsidiary, rather than an integral part of the Partnership). Also, selling off Waitrose would leave the Partnership with just a department store and the model is under severe threat, a thought that is no doubt preoccupying Archie Norman at M&S, even as he has sought to uncouple the two divisions.

Waitrose is still profitable, of course, and the property portfolio is valuable, but its performance is going in the wrong direction, and something more needs to be done, while the Sainsbury's-Asda merger will only strengthen the case for action in the mid term. Nor is this the first time discussions have been held with rivals.

Once again the matchmaking instinct starts kicking in. The Co-op is a good ethical fit, and complementary in terms of store sizes and geographic overlap. And spinning off Waitrose with M&S Food would also be interesting. Will Mayfield hatch a plot with Norman (his fellow McKinseyite)? Mayfield has reportedly dismissed the Amazon approach as just speculation but the Sainsbury's Asda merger is sure to kick-start further dramatic plays from rivals, and inertia in the face of such seismic disruption could prove fatal for all parties.