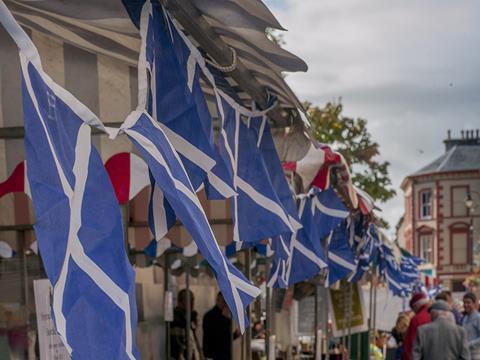 The Scottish government has been all over the food and drink industry these past few years, like those pesky summer midges: warring with its biggest exporter on MUP, infuriating retailers with DRS plans and introducing 'nanny state' obesity measures.
But credit where it's due, at least it has a plan. While Brexit has shunted initiatives like the Food & Drink Council off the agenda in Westminster, and Defra won't even cough up for a £45,000 Chinese inspection visit to support dairy exports, the Scottish government has been far more proactive in supporting exports, launching the second phase of the Scotland Food & Drink Export Plan this week to double exports to £30bn by 2030, backed by £4.5m in capital grants.
While Whitehall has fiddled as the high street burns, Scotland's finance secretary Derek Mackay has cut business rates. Scotland was also pioneering in its introduction of a plastic bag charge. Meanwhile key figures such as Fergus Ewing, cabinet secretary for the rural economy, appear to have real empathy with and commitment to the food industry which, despite recent improvements at Defra under Michael Gove (how long will he be there?), has been absent south of the border.
Even when it comes to intervention, the approach has been more progressive, even visionary of late: it's not insignificant that last week, the BRC told The Grocer it wanted the UK government to follow the Scots' lead in tackling promotions. And while its plans for DRS have proved divisive, because of the potential cost to retailers, trade bodies such as the FDF and BSDA are now asking Gove to follow the Scots' lead in bringing in an all-encompassing plastics recycling system.
There are, of course, important societal reasons for the Scottish government's hardline approach to obesity. Jokes about deep-fried Mars bars trivialise the extent of the crisis, which contrasts so markedly with the country's rich food culture and world-leading products like whisky, beef, salmon and seafood. Supermarkets are also doing their bit. But it was insightful to learn that Platform, Glasgow's answer to Borough Market , only switched from opening once a month to once a week last month. It shows Scotland is on a journey. Will it go it alone, or as part of the UK? That's a whole other can of worms and the source of perhaps the most divisive battle of all.
Going plastic-free is seriously hard as a consumer. It takes organisation and planning, not to mention denial as literally thousands of items that are conveniently, safely and protectively stored in plastic packaging have to be ruled out.
So credit to Waitrose for introducing self-packing stations on a range of ambient, frozen and household goods in a trial at its store in Oxford. This move, and other recent initiatives, allows shoppers to dial not just out of plastic but out of packaging altogether. Whether they will do so is another matter. On my visits to smaller stores that offer these options, the contraptions, with their twisty taps and giant scoops, have added plenty of theatre, but they haven't exactly been busy.
Perhaps that will change if these bring your own packaging (BYOP) options are more widely available. Let's hope so. But shoppers value speed and ease as much as supermarkets. There will have to be a meaningful trade-off on price for BYOP to stand a chance. And that's not always the case with these initiatives.