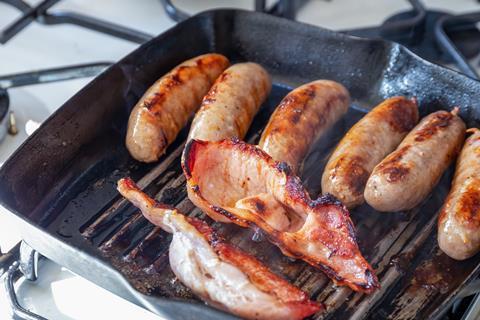 As world leaders gathered in St Ives this week, food and drink issues were once again front and centre. The G7 meeting is supposed to be about Covid vaccinations and climate change. But US president Joe Biden has become embroiled in the so-called 'Sausage Wars' between the UK and the EU. And he's not amused.
It's a farcical situation in which the outright and petty ban on exports of processed meats (from 1 July) on the grounds of food safety masks a deadly serious issue, with the possibility not only of a trade war but an actual war. And even if the sausage (and bacon) issue is overcome, there's further threats once other grace periods end in October.
In the meantime, even with those grace periods in place, costs of £190m-£260m have already been incurred in Northern Ireland, according to Defra. What's more, these costs are not being fairly shared: for months we've been reporting on supermarkets trying to pass the buck on to suppliers in areas like incoterms and haulage. This week, thegrocer.co.uk revealed how hundreds of suppliers have complained to the new Groceries Code Adjudicator about retrospective or unilateral changes to supply agreements because of Brexit in its latest YouGov survey. And it's inevitable more supermarket suppliers will pull out of NI unless a trusted trader scheme can be implemented across the food supply chain.
But supermarkets aren't always villains. In a week of crucial talks, The Grocer reports on how retailers have agreed to rip up the rulebook on own-label surplus food redistribution. It's a move that could go a long way to freeing up the scandalous 500,000 tonnes of surplus food each year that is estimated to go to animal feed and AD – 80,000 alone of it from retailers.
Too often suppliers wanting to help those suffering from hunger have been thwarted by ridiculous red tape, an issue highlighted even more by the pandemic. The supermarket and supplier bosses who got together to provide new guidance might not get anywhere near the attention of Biden and co, but when it comes to hunger, their decisions are likely as significant as anything coming out of Cornwall this week.