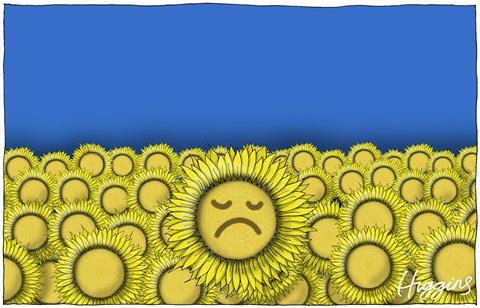 The smiley face of the sunflower has been turned upside down. And of all the commodities, it is unique in its symbolic and economic significance to the catastrophic war in Ukraine.
The soaring price of gas, Brent crude and cereals are threatening hyperinflation. But there are alternative sources. Farmers are already planting more wheat, for example.
Not so sunflower oil. Almost 80% of the world's sunflower oil comes from Ukraine and Russia. So the price, which more than doubled last year from a 2020 low of $685/tonne, hit a new record high of $1,665/tonne [Mintec]. But as manufacturers are finding, it's simply not available to buy, in the short term and in terms of long-term contracts too.
What that means is a run on other cooking oils to replace it. The price of palm oil, from a 2020 low of $597/tonne, was up to $1,718/tonne last week. It's the same with rapeseed oil, from €670 to €1,782, with the additional challenge of low yields due to the neonicotinoids ban. In olive oil, too: pesto producers are now substituting olive oil for sunflower. There's no alternative.
The impact of this is seismic. Take crisps. Walkers last year changed the oil in its crisps from 100% high oleic sunflower oil to a blend of sunflower and rapeseed, due to soaring costs. It will need to make further changes to the recipe, as will all crisps and indeed chips makers – branded and own-label.
But in fact manufacturers in a huge swathe of categories will have to reformulate, from biscuits and bakery, to ready meals and cooking sauces. And the timescales retailers and suppliers work to will have to be ripped up, as well as the costs, while the government will need to be prepared for a degree of flexibility when it comes to labelling.
Suppliers have tried to buy raw materials for the rest of the year, but they can't. And it doesn't matter if it's oil, butter, flour, sugar, you cannot buy forward contracts, we're hearing. As a result suppliers are pulling out of tenders, even incumbents. We could also see ingredients suppliers reneging on futures contracts due to the eye-watering premiums suppliers may be prepared to pay. There will be a degree of profiteering on this, too. The ways of working that have existed based on certainty of supply are disappearing. And it all links back to the sunflowers.