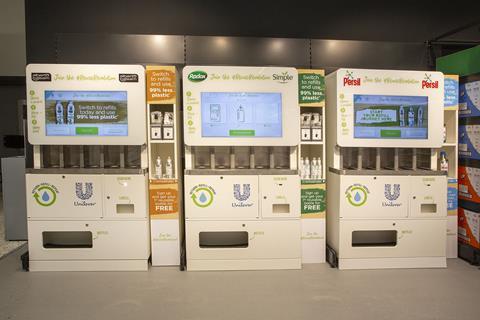 It's great to see Asda trialling an 'unpacked' solution. It's not the first, of course. And like other supermarket efforts, it's just a trial – and represents a drop in the plastic-filled ocean.
But it's proof, while delayed by the pandemic, that supermarkets are committed to finding ways to cut plastic: three billion pieces of it by 2021 in the case of Asda.
And in one crucial regard, it's different from all the other trials: it's roped in branded suppliers to help. Even Heinz baked beans have been 'unwrapped'!
For too long, the efforts of the supermarkets to explore green solutions, in store, have almost exclusively involved own-label commitments. That's because, they argue, they can't control what branded suppliers get up to. Perhaps.
But brand owners are keen to help. Some, anyway – though the focus of their efforts is mostly on reducing and even more so recycling (through use of rPET, and ensuring that packaging is recyclable), rather than reusing and replacing. Brands have also been involved in a number of recycling initiatives in partnership with supermarkets, though none has matched so far Nestlé's impressive commitment this week to build its own recycling facilities.
But brands need to work harder. And so do supermarkets in driving change. As well as putting pressure on big suppliers for "selling air", as Tesco's ex-CEO Dave Lewis put it, supermarkets need to educate shoppers. And they should put their money where their mouth is, by listing more small brands – like Qnola, Candy Kittens, Pip & Nut, The Curators, BrewDog – that offer shoppers green solutions. That would help save the planet, and provide the best possible message to complacent big brands to buck up their ideas – as well as rewarding smaller suppliers at a time when the giant multinationals are enjoying better sales, and at a greater advantage than for many years.
So credit to Asda: it's working in its trial with OceanSaver, a small indie brand, and a refillable cleaning product supplier (refill at home, not an in-store refill machine). This is its first Asda listing. And Asda has given it a full bay.