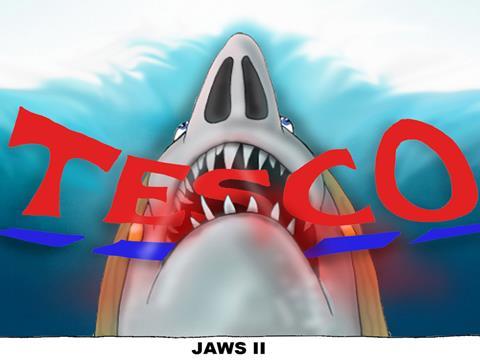 In the context of a documentary that focused heavily on Tesco's abuse of its market powers (Panorama, BBC1, Monday), how ironic it was that the dairy crisis apparently prompted PM David Cameron this week to agree to grant the Adjudicator Christine Tacon the power to fine supermarkets.

Milk is one of the few areas in which Tesco appears whiter than white. At 73p for four pints, Tesco pays a premium to its dairy farmers that's bettered only by Marks & Spencer (78p). And with the dairy crisis intensifying, Tesco last week pointed to its commitment to dairy farmers with a blog and YouTube video - a move followed up by Sainsbury's (72p) with a newspaper ad on Tuesday - as they sought to send a baying pack of farmers, MPs and media on the scent of the 'villains' of the piece: notably discounters Aldi (56-59p for four pints), Lidl (56-59p), Iceland (56-59p), Morrisons (56p) and Asda (56p).

No one should doubt the significance of the Adjudicator's new powers, however. GSCOP has already resulted in far greater use of contracts. Together with a decline in sales, that puts the big four in a weaker position in supplier negotiations. But with the power to fine a supermarket up to 1% of sales - £400m in the case of Tesco - that's going to focus minds still further. And not just Tesco's. Even Amazon would be liable given its size.

And it doesn't stop at retailers. More and more grocery players are being dragged into a debate over market abuse. Following the well-publicised humiliation of Premier Foods by its own disgruntled supply base, this weekend AB InBev and Heinz were exposed to media scrutiny on similar grounds.

And since most supermarkets buy their milk from third parties, there is apparently government appetite to extend the Adjudicator's powers to the processors (though it's hard to see how, and certainly not at a speed to ease the plight of Britain's dairy farmers). Yet even with the threat of fines, Tacon will still be hampered if suppliers continue to suffer in silence. She must have felt like a feckless Commissioner Gordon when Tesco's market abuse emerged under her nose via a profits warning - with Batman, cleaning up Tesco's dark streets, played by Dave Lewis.