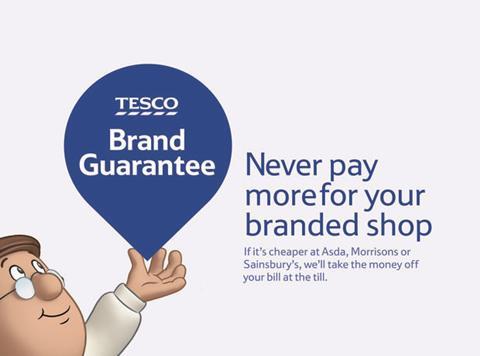 With World Cup fever in full swing, England riding high, and the Cabinet attacking business (in extraordinary fashion) over its hugely justifiable and intelligently argued Brexit concerns, this was perhaps a good week for Tesco to announce the closure of its Brand Guarantee scheme.
The justification was that only one in eight shops generates cashback, as Tesco has sharpened its prices. Really? In the Grocer 33, only on three occasions (ie 6%) in the past 50 weeks has Tesco not been forced to issue cashback of some sort, resulting in an average discount of £2.60.
Even if it's the 12.5% of occasions that Tesco claims, that's still a lot of cash to be giving back to the customer, especially without supplier support (which it's always insisted it was), and it's chosen to invest it in core pricing.
That it's prepared to take this step, given its history and the ongoing threat from discounters, shows Tesco is confident not only in its improved price competitiveness but in its general recovery. And there are lots of signs of customer approval: like the fact Tesco's 'Food Love Stories' won the Media Grand Prix at Cannes last week (isn't it remarkable that Tesco and the word 'love' can credibly go together in an ad?); or the endorsement from shoppers in our recent survey of Britain's Favourite Supermarket, where it came first for six of the 10 attributes shoppers value most, and was considered the best for four of the eight grocery categories (including vegan, vegetarian and free-from products), and came second in the others.
Still, I can't help thinking it's a bad decision to scrap Brand Guarantee. It was the one price guarantee that worked without requiring the shopper to go to any effort in order to benefit and one of the most powerful and reassuring of those 'little helps' Tesco has created. So, even if it couldn't always match the discounters on own label, you knew it was there or thereabouts on branded goods. Or to put it another way, even if it's the more modest 12.5% of occasions that Tesco claims, that's 12.5% of transactions where the customer won't be pleasantly surprised at the till.
While Tesco was burying bad news, arguably the opposite is true over at Waitrose. It was burying good news! The Bracknell retailer has forecast that not only will it make a welcome return to profit this coming year, it expects margins to increase from 2.7% to 4% by 2021. When you consider the turmoil on the high street, including JLP chairman Sir Charlie Mayfield's own gloomy assessment this week of the "jeopardy of what is going on", the Waitrose turnaround offers a glimmer of hope for partners, who saw their yearly bonus cut for the fifth year in a row earlier this year and face the prospect of a sixth as half-year profits are predicted to be "close to zero".
What's been driving the Waitrose turnaround comes down to improving like-for-like sales growth (boosted by ongoing range reviews and greater own-label differentiation), a better handle on gross margins, and the Modern Waitrose restructure (which included upskilling partners as well as axing them). And as controversial as Modern Waitrose has been, it also seems be improving availability – albeit from a low base and very slowly.