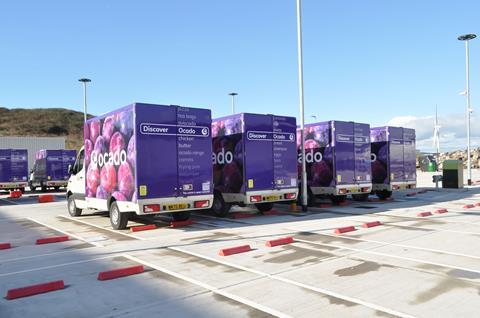 There's a new digital divide in online grocery retailing. And it's way more important than the speed battle on bite-size last-minute orders. It's a battle over how to fulfil the big weekly shops.
In the past week both Asda and now Sainsbury's have scrapped their so-called 'dark stores' – or customer fulfilment centres – an extraordinary decision given the perceived extra costs (and disturbance) of the alternative: in-store picking. But Covid hasn't just changed the online demand equation. As our analysis explains, it's changed the economics of in-store picking, with more dropoffs bringing down the crucial (but less considered) delivery cost. But it's a solution also reliant on further automation, at the back of emptying stores, a reversal of Tesco's Operation Checkout from the late 1970s, in which the stock room once again becomes the engine room – with a twist.
It's been a big week on the other side of the divide, however, with significant CFC developments. And again there are twists. The launch of the third Waitrose CFC is notable not only for its commitment to the dark store model but its use of third-party logistics supplier Wincanton. More significant still is Ocado's launch of its first so-called mini-CFC. It's still huge, fulfilling 5,000 more orders per week than the Waitrose CFC, and together with the rebuild of the giant Andover site (which burnt down) and an even bigger shed at Purfleet, means Ocado will add 40% capacity this year. But the Bristol CFC is significant for the same reason as the in-store picking move: because Covid, and specifically, soaring online demand, will make smaller CFCs, close to smaller cities across the country (and therefore with lower delivery costs), more viable.
Which is the right way? Tesco's nailed its colours to in-store via its urban fulfilment in 2019. In contrast, in October Amazon opened its first-ever Whole Foods dark store in the US. On the other hand, it's also investing heavily in micro-fulfilment centres (MFCs) too, keeping its options open as ever, as it's shown with the launch of its first UK convenience store, while turning up the heat on suppliers. So the battle lines for the big online shop are being redrawn. The stakes are huge.