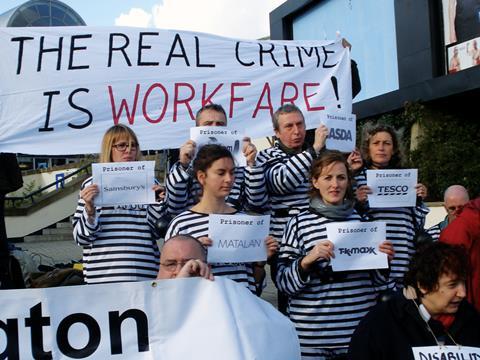 They will find public opinion is against them, and we'll increase the pressure on them to pull out."

That is the warning from pressure group Boycott Workfare to supermarkets, as the controversy about the much-criticised scheme returned to the spotlight this week.

Prompted by the long-anticipated (and hotly contested) publication of a list of 534 employers that participated in the Mandatory Work Activity scheme (which formed part of the wider Workfare initiative), the controversy has reignited debate about the ethics of tying receipt of benefits to work experience - and the role of big, highly profitable employers in this.

The list published by the DWP this week includes several major supermarkets but, as we explain in our analysis, the question of whether there's a case to answer is far from clear. In fact, some retailers on the list dispute they should be on there at all - a worrying state of affairs, given the high stakes associated with being named publicly.

More complicated still is the question of whether those who did participate in the scheme are right to face ire over their involvement. Some will argue that, while unpopular, the MWA was a legitimate government scheme, though the public fallout proves it's not quite as simple as that. Regardless of their own involvement, many in grocery will therefore view the return of the Workfare controversy - and warnings from groups like Boycott Workfare - with a deep sense of trepidation.

They are right to. Recruitment and retention of talent is one of the biggest challenges this industry faces, yet public discourse about working in grocery retail and food production is so often dominated by abuse and heartache: modern slavery; minimum wage breaches; scared seasonal workers; poor representation of women in senior roles; and now, once again, Workfare.

It's a reminder that grocery continues to have a huge job to do in telling the positive stories about working in this industry - the varied careers it offers, the innovation it fosters, and the personal development it supports. And it will make many employers think twice about the extent to which they will get involved with similar schemes in the future.