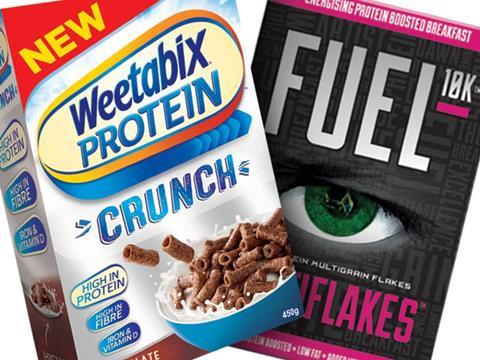 Atkins muscles in

Sir: 'Muscling in on protein' (4 July, p24) highlights how an increasing number of consumers are becoming aware of the negative impact of sugar in the diet and the benefits of incorporating high-protein and low-carb foods into everyday eating.

It's interesting to see protein products diversifying and appealing to new audiences, specifically women. As protein doesn't cause an insulin response, cravings are reduced, making it easier to maintain a healthy diet for both genders. It is important to keep things balanced, though; overeating protein may stall weight loss. The New Atkins approach focuses on a reduction in carbohydrates intake that stabilises blood sugar levels. These then need to be replaced with moderate protein and higher fat intake, which the Atkins range can also support.

Peter Valentine, MD, Atkins UK





Indies need price tech

Sir: Waitrose MD Mark Price recently predicted the supermarket price war that has escalated in recent months could start to come to an end later this year - but how are other retailers going to weather the storm in the meantime? The challenge for many retailers in developing a balanced pricing strategy is in the size of their inventories and the complexity of their operations. Significant investment is being made by retailers on their assortments but where do they start to ensure omnichannel consistency and organisational coherence for their pricing? Nowhere is this challenge more apparent than in the convenience channel.

Convenience retailers have two choices: like-for-like price reductions; or they can get to grips with their own price strategy and how that supports a ­differentiated offer.

Technology options are being introduced that enable retailers to focus on setting individual pricing policies by product line. By determining what prices to charge at both SKU and category level, retailers can implement a future-proofed sustained pricing strategy.

Mark Croxton, head of global customer support, Symphony EYC





Sunday nonsense

Sir: On Sunday trading laws, let us not forget normal Sunday shopping was thwarted by the Church as they were concerned their flock would prefer to have a retail rather than religious experience.

The argument that Sunday is a day for family leisure time is completely disingenuous because for many people shopping is a leisure activity. The other argument against is that shop staff will be put under pressure with longer opening hours but this is a nonsense because they are already working six hours on a Sunday and I am sure many would welcome the extra pay.

We are governed by Sunday trading laws that are more akin to the 19th century.
Paul Green, via thegrocer.co.uk