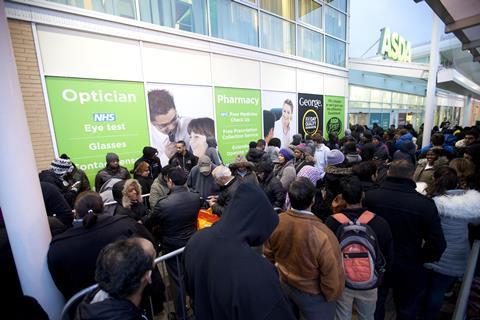 Black can stain

Sir, Asda's decision to sit out this year's Black Friday is likely to have been influenced more by prudence than passion, or lack thereof ('Are retailers falling out of love with Black Friday?' thegrocer.co.uk, 11 November). It may be the result of careful evaluation of how the event might impact its brand.

Every interaction a customer has with a retailer - from seeing its ad to shopping in store - contributes to the creation of a 360 degree brand experience. Millward Brown's Insights2020 research has shown that delivering a total, customer-focused experience contributes significantly to bottom-line growth. If that experience is inconsistent, or an aspect of it is in any way unpleasant or unsafe, it can cause damage to the brand that far outlives any short-term sales uplift. That's why all retailers should base decisions about Black Friday on the effect their involvement will have on the brand - not just pre-Christmas revenues.

Amanda Phillips, head of marketing, Millward Brown




Hugh spurs commitment

Sir, Millions of people tuned in to watch Hugh's War on Waste, and the huge response shows it is clearly a key issue for consumers. FareShare got involved in the programme to demonstrate the good work our food partners are already doing and to show the huge potential to do more. We currently redistribute enough food for 16.6 million meals a year, with just 2% of the surplus food generated. Hugh Fearnley-Whittingstall focused on the supermarkets - but most surplus food is generated before it gets to a DC or store. Many of our retail partners, including Tesco, Asda, The Co-op and Sainsbury's, are already working hard to increase the amount of food they provide to us.

No company plans to have surplus food but all companies, at some point, have food that cannot be sold. Many of our food partners reduce waste and increase efficiencies using the approach outlined in the unique FareShare Food Efficiency Framework. For the rest, give it to us so we can feed more people in need. We'd love to feed back to Hugh that we've signed up loads more food companies in time for his follow-up programme in the spring.

Lindsay Boswell, CEO, FareShare




Recipe boxes cut waste

Sir, It is brilliant to see Hugh Fearnley-Whittingstall bringing much needed attention to the scale of food waste in Britain. A year ago, I founded a company called Mindful Chef - a recipe box company that ships the exact quantity of ingredients you need to make a recipe. Now more than ever, I believe recipe boxes are the solution to winning the War on Waste. Too often do we pop into a supermarket without a plan and buy food we aren't going to eat. Or we have a plan, but have to buy too much of one ingredient because it comes packaged together. Recipe boxes provide exact quantities of ingredients, directly from farm to plate, to create meals - so there is zero food waste. The farmers are able to negotiate good prices and know what they need to provide in advance preventing any unnecessary waste. "Mindful from plough to plate" embodies the spirit behind Mindful Chef and we commend Hugh's efforts.
Myles Hopper, co-founder, Mindful Chef