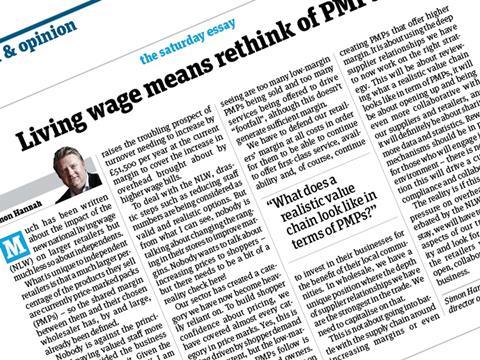 Sir: I welcome the debate around price-marking but am a little concerned as to the message we may send to our suppliers ('Living wage means rethink of price-marked packs', 10 October).
Price-marking works for independents, particularly single-site, low-turnover stores that can't constantly invest to keep up with consumer demands. Price-marking instils consumer confidence and brings price discipline to stores that can ill afford the time for a pinpoint PoS strategy.
If the price points or shared margins are of concern then it is our job as negotiators to get it right with the manufacturers.
For a number of years I have seen price marks accepted into the business with no bonus for promotional periods. I have seen seriously low shared margins accepted in pursuit of sexy price points! And I have seen price marks set by suppliers with stacks of shared margin but with price points so high they kill sales and are then extremely hard to remedy.
The worst case scenario would be the return to one or two dollops of a decent promotional price mark per year and the Wild West in between. This would instil no long-term confidence in the consumer and the retailer.
The debate isn't about the concept of price-marking but the negotiated quality of each individual price point. As negotiators we can't just accept what is put in front of us once the stock has been made, this doesn't work. I urge decision-makers on both sides to ensure well-informed collaboration prior to the production line.
Greg Suszczenia, joint MD, AG Parfett