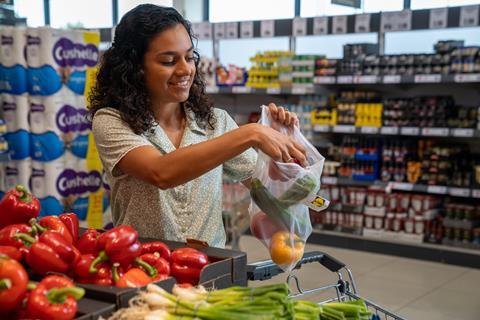 Lidl has cut its plastic use by 8% in a year through measures including reducing the thickness of packaging.

The supermarket has also achieved a claimed 16% reduction in carbon emissions through measures such as LED lighting in all stores and new fridge doors.

The achievements are detailed in Lidl's annual sustainability report, due to be published today (1 November) and setting out milestones hit in 2018.

Gross sales for the year ending February 2019 were £6.6bn, up from £6.05bn the year before, according to the report.

It says the total volume of primary plastic used increased 4%, but since the business also grew by 10%, the net amount per customer spend reduced.

Reducing the thickness of packaging alone saved 37 tonnes from plastic meat trays and 15 tonnes from crisp packets. Other steps, announced at the time, included swapping polystyrene bases for cardboard.

Food waste had also been cut, but progress had slowed, according to the figures. From 2016 to 2017, food waste per store fell 13%, while in 2017-18 it dropped 1.2%.

The report also sets out progress on sugar reduction in line with the government's Childhood Obesity Plan. It says 1,083 tonnes were removed from biscuits and 228 tonnes from chocolate products through reformulation and shrinking pack sizes.

'The discounter model is inherently sustainable,' Lidl GB CEO Christian Härtnagel claims in an introduction. 'That's because we are always striving to be cost efficient which naturally leads us to reducing our wider impact.

'Examples of this are where we have introduced LED lighting in our stores and installed doors on our meat and poultry cabinets, which reduce our energy consumption (and our costs), or where we fill all our lorries to maximum capacity in order to save on food miles and keep our emissions low (and also reduce our costs).

'Being efficient is part of our DNA as a discounter and a central part of our core values as a sustainable retailer.'

He adds: 'We've taken some significant steps over the past couple of years - from increasing our fruit and veg range by a fifth, and reducing the amount of plastic product packaging by 8% since 2017, to committing to invest over £15bn in British food, farming and production over the next five years.'

On human rights, the report reaffirms what Lidl is doing to protect workers in the supply chain, including carrying out impact assessments to better understand conditions. It's an area in which Oxfam is putting pressure on the supermarket to improve, after the charity ranked Lidl bottom of six major supermarkets for human rights safeguards earlier this year.