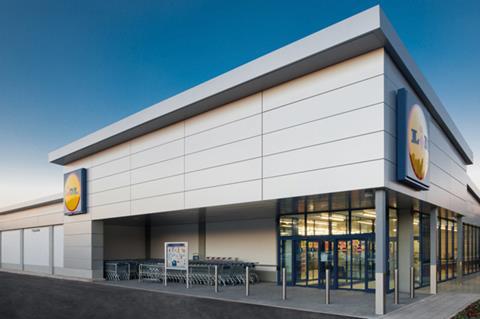 Lidl has announced new targets on plastic, including a 40% reduction across own-label by 2025.
The supermarket claims to be close to hitting an earlier target two years ahead of schedule. It had been aiming for a 20% reduction between 2017 and 2022 and had already reached 18%, it said. The new 40% target is against the same 2017 baseline.
The latest targets also include a 25% reduction in total own-label packaging by 2025.
The discounter's new commitments came as it published its third annual plastic footprint report, revealing Lidl GB had used 59,182 tonnes in primary packaging on branded and own-label products in 2019. A further 3,083 tonnes consisted of 'secondary' and 'tertiary' plastic used in the distribution, presentation and sale of products.
Earlier this week Iceland also published its plastic footprint, while MD Richard Walker called on other retailers and businesses to do the same. Iceland's report put its total plastic packaging footprint for UK and international operations at over 32,000 tonnes.
Lidl also fired a warning shot to brands, saying it was working collaboratively with them towards its goals and "reserving the right to delist branded products that do not meet those targets".
It claimed it had already got 80% of the way to a target of making 100% of own-label and branded packaging recyclable, reusable, refillable or renewable by 2025.
"Our unique business model allows us to adapt and innovate at pace and we are proud of the progress we have made to date in tackling excessive plastic use," Said Lidl GB chief commercial officer Ryan McDonnell.
"Protecting the environment is a responsibility we take very seriously, and we know there is more to do. This is why we have significantly expanded our targets to help accelerate the impact we are having on cutting plastics, and we're proud to be working collaboratively with our suppliers to find solutions."
Lidl added that by the end of the year, it would have eliminated problematic plastic including black plastic, PVC and EPS, from its own-label core food range.
The discounter has also made a number of other new pledges. Here's the full list, together with earlier goals set in 2018.
New Packaging Goals, 2020
By 2025, reduce own label plastic packaging by 40% relatively against a 2017 baseline
By 2025, reduce own label packaging by 25% relatively against a 2019 baseline
By 2021, 30% of own label plastic packaging to contain recycled content
By 2023, 90% of own label & branded packaging to be recyclable, reusable, refillable or renewable
By 2021, we are committed to doubling the number of refillable / reusable packaging available in our stores
By end of 2020, eliminate problematic plastic packaging (black plastic, PVC and EPS) from own label core food range
By end of 2020, 100% of pulp and fibre-based own label packaging in core food range to be either responsibly sourced from FSC, PEFC, or equivalent, or made using recycled content
Ongoing - we reserve the right to delist branded suppliers with excessive or unrecyclable packaging
| Packaging goals 2018 | Progress |
| --- | --- |
| By 2022, reduce own label plastic packaging by 20% relatively against a 2017 baseline* | 18% |
| By 2025, 50% of own label packaging to be made of recycled content | 30% |
| By 2025, 100% of own label packaging will be recyclable, reusable, refillable or renewable | 80% |