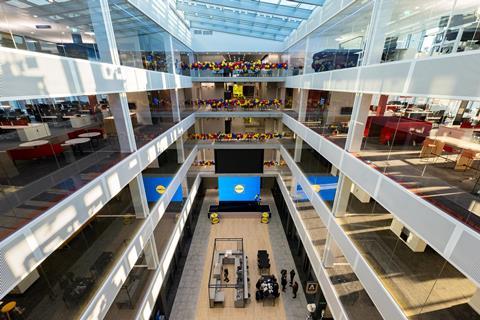 Lidl has opened its new head office in Tolworth, after seven years' planning and three years of construction.
About 800 staff will work in the new five-floor, 250,000 sq ft building, named Lidl House, many relocating five miles from Wimbledon.
The site has the largest number of electric car charging points in one location in the UK, according to Lidl, along with automatic LED lighting and toilets that flush with rainwater.
Other facilities include a gym, on-site barista and canteen.
Lidl is investing £500m over five years in expansion in the capital, in plans announced in 2019 to pay for both construction of the new head office and 40 new stores, taking the total inside the M25 to around 130.
"This is a significant milestone for Lidl GB, finally bringing us together under one roof as one team," said Ryan McDonnell, Lidl GB's CEO from 1 February.
"This amazing new space is designed to really enhance collaboration, encouraging more flexible ways of working for all colleagues, with dedicated areas to suit their needs, as well as providing them with the resources they need to work as one team.
"Most importantly it's a sign of our absolute commitment to our colleagues, our customers and our suppliers, and our desire to continue pushing forward with our rapid expansion so that we can offer even more communities the chance to access high quality food at market-leading prices."
Lidl also recently opened its 900th store in Britain, in Liverpool, putting it on track to reach its long-term target of 1,100 by 2025.