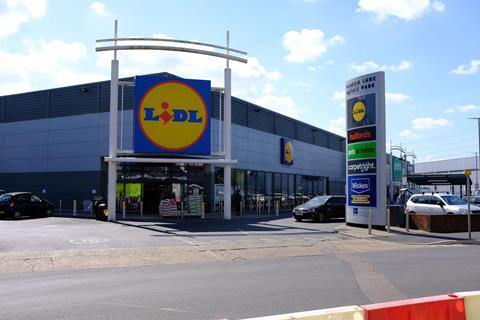 Lidl has created one of its biggest ever UK stores, by expanding an existing branch into a former Halfords to make it 27,000 sq ft.
The discounter has insisted it may have a "slightly bigger" store elsewhere in the UK, but has not clarified where.
The reopened Wimbledon branch – near Lidl's HQ – is 500 sq ft over the upper limit in the discounter's property specifications, which have themselves been creeping up in size. Last year the supermarket increased its nationwide minimum unit size from 14,000 sq ft to 18,000 sq ft, leaving the maximum at 26,500 sq ft. In London the supermarket stipulates 7,000 sq ft to 26,500 sq ft.
"What a transformation!" wrote Lidl head of property Henry Neel on LinkedIn this week. "The reopening of Lidl Wimbledon, following the expansion into the former Halfords unit to create a new 27,000 sq ft foodstore opposite AFC Wimbledon."
The store has been closed since January for the refurbishment and extension, which is said to have added about 17,000 sq ft of sales area.
Shopfloor Insights founder Bryan Roberts said: "Some other recent Lidl stores have been fairly big but not quite as big as that."
Shore Capital analyst Clive Black called it "a proper superstore at 27,000 sq ft".
Lidl's range has grown to match its stores, with the number of permanent lines rising from about 2,000 in 2016 to 2,300 by last year.
Speaking ahead of the Wimbledon closure, Neel said its extension would "bring the local community an even greater selection of our much-loved products and an improved shopping experience in-store".
Latest Kantar data this week showed Aldi and Lidl's growth accelerating as inflation squeezed consumer finances. Lidl hit a new market share high of 6.9%, a 0.7 percentage point increase on a year earlier, while Aldi also broke records, climbing to a 9% share of the market for the first time, an increase of 0.9 percentage points versus 2021.
As well as opening new stores, increasing capacity of already high-footfall existing ones could be a way for the discounters to maximise the growth opportunity presented by the cost of living crisis.
"They are busier per square metre than any other supermarket in the UK," noted Paul Foley, who served as Aldi's UK & Ireland CEO from 1999 to 2009.
The new Wimbledon store, which has always been a high footfall location for Lidl, has about 14 self-checkouts, a feature commonly reserved by the discounter for busy London branches.