Lidl has poked fun at Morrisons' price-matching pledge, announced to some fanfare on Thursday (2 October), with its latest stab at reactive advertising.
The discounter took out a full-page advert in Saturday's edition of The Sun with the line "Morrisons have found a way to match Lidl's prices", followed by a series of stages the shopper would potentially have to go through to achieve the price matching.
These stages include setting up an online account with Morrisons; handing over "minor details" such as home address; waiting for Morrisons' new loyalty card to arrive in the post; and working out the points system of the retailer's new scheme.
The advert ends: "Or you could just go to Lidl."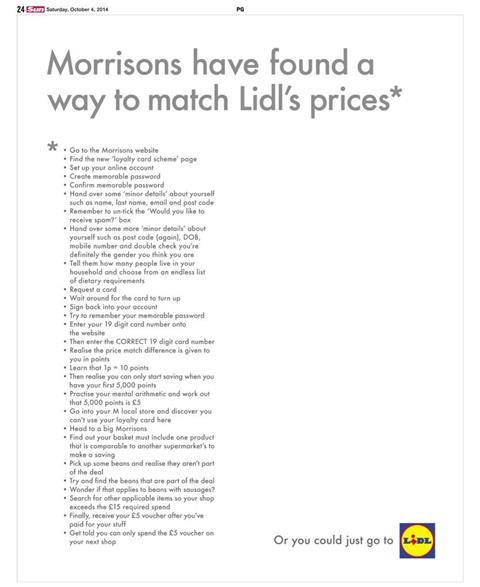 Last week, Morrisons said it would become the first of the big four supermarkets to match Aldi and Lidl on price, with the nationwide rollout of its Match & More loyalty scheme. If a comparable grocery shop can be bought cheaper at another retailer, Morrisons will pay back the difference to the shopper in the form of points on their loyalty card.
Saturday's advert is the second piece of opportunistic advertising from Lidl in a week, after it put a poster in its Clapham Junction store in riposte to a staff poster that was accidentally displayed in a Sainsbury's store window last week.
Sainsbury's original poster had urged staff to take up its 'Fifty Pence Challenge' and get customers to spend 50p more per shop between now and the end of the year. Lidl's poster – which also appeared in half-page adverts in The Sun and Metro – urged staff to help customers save 50p per shop.
A Lidl spokeswoman told The Grocer it was trying to be "more reactive" in its advertising but had no plans as yet to extend the Morrisons price-matching message. "It's not a campaign, just a response highlighting the everyday value at Lidl," she said.
"We're pleased that Lidl are taking the launch of Match & More so seriously - so much so that they took out a full page ad in The Sun to tell everyone about it," said a Morrisons spokesman.