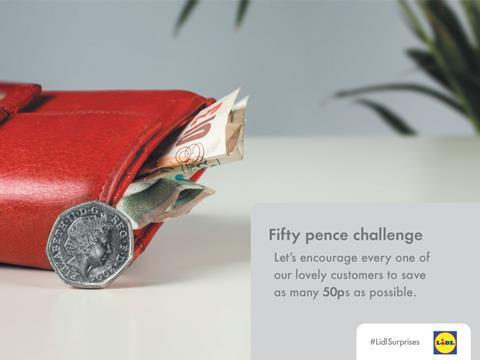 Lidl has responded to Sainsbury's infamous '50p challenge' poster earlier this week with a 50p challenge of its own.
A poster in the window of its Clapham Junction store this morning urged staff to help customers save "as many 50ps as possible".
The message also appeared in half-page adverts in The Sun and Metro this morning.
On Monday, Sainsbury's was left red-faced after a poster meant for the staffroom at its Stratford, East London store was accidentally displayed in the shop window. The poster highlighted a staff initiative called 'Fifty Pence Challenge' and read: "Let's encourage every customer to spend an additional 50p during each shopping trip between now and the year-end."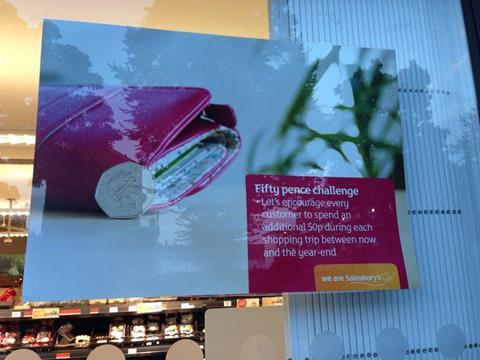 The poster was tweeted by a passing TV freelancer, sparking mockery on social media from people keen to suggest their own '50p challenges' to the retailer.
"Clearly, it was a poster that was meant to be there for our colleagues' benefit and ended up in the store," said Sainsbury's CEO Mike Coupe. "But the underlying point [of the poster] is that we are there to serve our customers and the better we serve them - whether it is making sure our shops are clean and tidy, the availability of the products is there, that we're friendly - then customers are more likely to spend their money to us.
"So there was an underlying point to it, but it was a bit unfortunate. In a business of this scale, things can happen."
Arnd Pickhardt, advertising and marketing director at Lidl UK, said: "We saw an opportunity to show – in a light-hearted way – how our customers can make savings of 50p and beyond by shopping with us. As part of our #LidlSurprises campaign, we're always looking for fun ways to surprise and delight our customers."
A Lidl spokeswoman added its poster had been dreamt up by its ad agency in conjunction with its internal advertising and PR teams, and there were no plans to extend the message beyond its Clapham store.