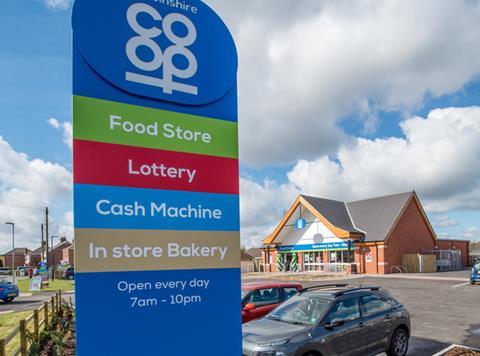 Lincolnshire Co-op hopes to cut electricity usage by up to 10% after installing power-saving technology at 25 sites across its estate.

The retailer has invested £170,000 in the voltage optimisation system from Powerstar and expects to save up to £50,000 a year in electricity costs.

A Lincolnshire Co-op spokeswoman said it would consider installing it at further sites if it was a success.

"We are constantly looking at how we can make our whole operation more energy efficient, whether that's by investing in new equipment or by challenging behaviour and changing the way we do things," she said.

"Voltage optimisation is a part of this commitment, alongside other schemes such as reducing the energy used by our fridges, freezers and lighting."

Voltage optimisation works by reducing the national 242v power supply down to the 220v that most electrical equipment is rated at. It also cleans and conditions the power supply, resulting in longer life of electrical equipment and an overall reduction in the amount used.

Powerstar trialled voltage optimisation units in four Lincolnshire Co-op food stores last year and saw an 8.2% cut in average electricity use. A further 56 sites were then surveyed, resulting in 25 with potential for the greatest payback and return on investment being chosen.

The sites included 21 of the retailer's 83 food stores, a bakery, a chilled butchery and ambient food warehouse, and an ambient only food warehouse.

It was also fitted at its head office in Lincoln from where staff co-ordinate its 213 retail outlets across Lincolnshire, Nottinghamshire, Yorkshire and Norfolk.

Installation of the equipment was done by AES, which managed the voltage tolerance on IT systems and refrigeration units to prevent power interruptions.

Lincolnshire Co-op's monitoring and evaluation manager Peter Gardiner said the installation process had gone smoothly. "All the units have been robustly manufactured and AES provided a high level of workmanship throughout the process."

Since 2009 Lincolnshire Co-op has invested in a number of energy-saving schemes, resulting in a 16% cut in electricity usage. Other measures include solar panels at nine sites, installation of energy-efficient fridges and freezers, some using heat reclamation, and low-energy LED lights. When building new stores or outlets the retailer tries to maximise natural light, and automatic lights are fitted as standard in warehouse areas. Each of its outlets also has a building management system that helps reduce energy, and an energy working group which meets regularly to discuss ideas about energy reduction and new projects. The co-op said it also used green energy providers.