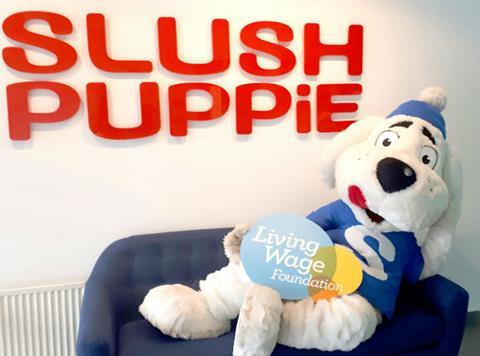 Slush Puppie has become an accredited living wage employer, paying a minimum hourly wage of at least £8.45 per hour outside the capital and £9.75 in London.

The rates apply to its 89 employees regardless of whether they are permanent or third-party contractors.

Both these rates are significantly higher than the statutory minimum wage for over-25s of £7.50 per hour introduced in April 2017.

Slush Puppie joins over 3,000 organisations that have already signed up to pay the higher rates with the Living Wage Foundation.

The hourly rate is set independently, updated annually and calculated according to the real cost of living.

"We are a family-owned business where we put people first, from customers through to staff. From a personal point of view it's very important to our family that we share in our business' prosperity with everyone who works within the company," said Slush Puppie MD Mark Peters.

"Last year we introduced a profit-sharing scheme and now it is fantastic that we are in a position to pay everyone more than the statutory minimum wage. To be an accredited living wage employer is something the business is very proud of."

Katherine Chapman, director of the Living Wage Foundation, said: "It's fantastic to welcome such an iconic brand as Slush Puppie to the living wage movement - and just in time for the summer.

"Slush Puppie joins over 3,000 accredited living wage employers across the UK, ranging from independent bookshops and breweries to well-known companies such as Ikea, Nationwide and Aviva, which are ensuring all their staff earn a wage they can live on. These businesses recognise that clinging to the minimum wage is not good business. Customers expect better than that."

Slush Puppie manufactures and sells brands such as Tango Ice Blast and Coca-Cola Frozen alongside Slush Puppie Classic across 14 countries.