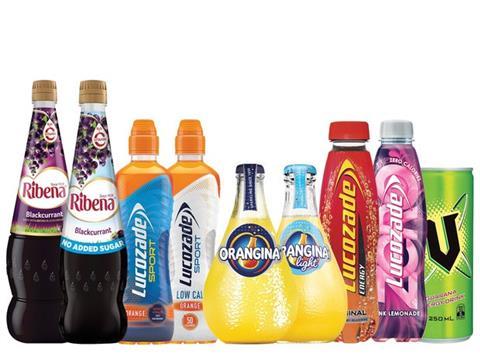 Lucozade and Ribena are to undergo massive reductions in sugar content in what its manufacturer claimed today was a "game-changing" breakthrough in reformulation.
Lucozade Ribena Suntory (LRS) revealed an overhaul being rolled out from July 2017 onwards would see all its existing and new drinks with added sugar contain less than 4.5g of total sugar (approximately a teaspoon) per 100ml.

The Lucozade Energy Orange brand is set to see the most dramatic reduction, with the reformulated version containing 65% less sugar, with 4.5g compared with the existing 13g.

Lucozade Original will contain 48% less than the current 8.7g of sugar.

Ribena juice will be reformulated with 56% less sugar (4.5g compared with 10g currently), while Orangina will drop from 10.2g to 4.5g, a 56% fall.

LRS chief operating officer Peter Harding claimed the technological breakthrough, which he said had been perfected in August this year, had allowed the company to produce new versions of the drinks, which could not be told apart from the original versions.

"The big breakthrough has been possible because of the world leading technology we've had access to due to being part of the Suntory organisation," he said.

"Over the past 12 months we've accelerated the process and the eureka moment came in the first week of August, when we realised after about 10 or 11 such tastings that we had got it right."

Harding said the new formulations, using sweeteners sucralose, aspartame and ACK, meant that customers in trials carried out since "couldn't tell the difference".

He said he was confident of avoiding a consumer backlash, despite the so-called Ribenagate episode in 2015, when Tesco customers reacted with a social media storm after the retailer removed sugar-added Ribena from its school lunchbox range.

Tesco later admitted it lost sales in the subcategory because of the move.

"We realise that we are custodians to these brands," said Harding. "But I believe we are responding to what our customers want, which is drinks containing less sugar but still with a great taste. I don't believe doing nothing was an option for us and I don't believe it is an option for the soft drinks industry."

Harding also said he was confident concerns over artificial sweeteners would not hit the relaunch, saying their use had been backed by the likes of the DH, WHO and FDA in the US.

"They are essential to our cause," he said.

As well as the sugar reformulation, today's announcement included pledges to label calories per 250ml portion on the front of pack of all of its products, from next July.

LRS is also ploughing £30m into an initiative to boost physical exercise at grassroots level, signing up sports stars including Tottenham and England striker Harry Kane, boxing heavyweight world champion Anthony Joshua and Australian online fitness guru Emily Skye as part of the campaign.

Despite LRS becoming the latest company to announce it would bring all its soft drinks below the 5% sugar content level to avoid being hit by the government's planned sugar levy, which is due to come into force in April 2018, Harding said the government approach was "not the answer to tackling obesity".

"I believe this is just one of a number of battles the soft drinks industry has lost over the past few years. What we are trying to do now is to make sure we win that argument and win back trust."

Harding, who is also president of the British Soft Drinks Association (BSDA), told its recent annual lunch he hoped the industry could "rewrite the conversation" by ploughing itself into reformation and new product innovation to win back the trust of consumers in the war on sugar.
However, The Treasury has claimed credit for both the moves by LRS and Tesco's announcement on Monday.
It claims both companies had shown they were "backing" its sugar levy, with Treasury sources saying the plans for fiscal action had forced the companies to act.
"@SuntoryGlobal backed the #sugartax by pledging to cut sugar on avg. 50% in drinks like Lucozade & Ribena," the Treasury Tweeted today.
On Monday on Twitter it posted: "@Tesco backed the #sugartax, cutting back sugar in own-brand soft drinks. How the sugar tax works."