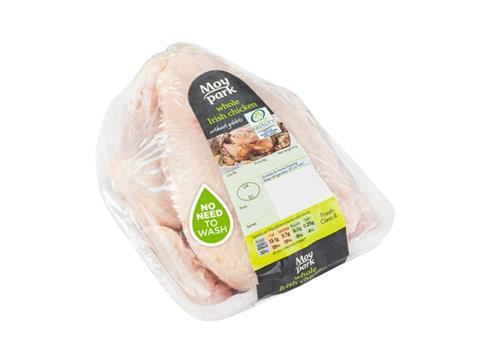 Northern Irish poultry producer Moy Park saw revenues increase by 3.4% for the 13 weeks ended 27 December 2014
Revenue increased 3.4% to £372.3m in the quarter, thanks to strong sales volume growth across UK & Ireland despite a "challenging UK retail market". Moy Park also said the revenue hike was achieved in the face of continued commodity price deflation, and lower prices on international sales of poultry dark meats and offal due to export restrictions in both Russia and South Africa.
The fourth quarter sales increase brought total annual sales growth to £1.42bn, a rise of 2%.
Underlying EBITDA grew by 15.2% before the inclusion of corporate charges from parent company Marfrig. Profit before tax was down 3.3% to £10.9m due to the corporate charges and interest on the bond issued in Q2 2014.
Commenting on the results, Janet Mc Collum, CEO of Moy Park said: "Moy Park finished 2014 very well as our commitment to deliver the highest quality product offering to customers and consumers has enabled us to grow the business through a challenging trading period. We have produced another strong free cash flow while continuing to invest in our infrastructure to facilitate future growth."
UK & Ireland revenues of £288 million increased 8% on Q4 2013.
Moy Park has been hotly tipped as one of the food manufacturing sector's likeliest stock market floats in 2015. Parent company Marfrig was believed to be readying a float in autumn 2014, before market conditions worsened. The Brazilian parent company has also indicated it is working towards a 2015 for the Irish poultry business.
Marfrig itself saw consolidated net revenue grow by 19% in the fourth quarter to reach R$5.9bn (£1.34bn), while consolidated adjusted EBITDA grew 30% on 4Q13 to R$548m.
The depreciated of the Brazilian real against the US dollar generated a loss of R$204m in the period. The net loss increased year-on-year from R$83.4m to R$284.7m during the quarter driven by the punitive exchange rate movement. Nonetheless, operational improvements at business units helped reduce by its net loss by 6% in comparison with the net loss of R$303.3m in third quarter of 2014.